The Council is composed of 13 citizen members, a faculty member, and a student member, all appointed by the Governor. The Commissioner of Education serves as a nonvoting ex-officio member.
Sherrill B. Zimmerman, Chair
Sherrill Zimmerman is a retired educator from Louisville where she was a teacher, assistant principal and a magnet program coordinator for Jefferson County Public Schools. She has made numerous presentations at state and national conferences on many aspects of middle school education. She also coached cheerleading at the University of Louisville leading them to three national championships. Ms. Zimmerman has served on several boards including the Children's Hospital Foundation Board in Louisville. In addition, she holds a bachelor's degree in biology, a master's degree in education and administrative certification all from the University of Louisville. Ms. Zimmerman will serve on the Council through December 2019. She was named chair in February 2017 and will serve in that role through January 2018.
Benjamin Brandstetter, Vice Chair
Benjamin Brandstetter of Hebron is the president of Brandstetter Carroll Inc., a national architectural and engineering firm with locations in Lexington, Cincinnati, Cleveland and Dallas. Brandstetter grew up in Lexington and attended the Georgia Institute of Technology where he received a bachelor's degree in civil engineering. He worked as a civil engineer in Raleigh, North Carolina for a national engineering firm before becoming licensed as a professional engineer and returning to Kentucky to work at Brandstetter Carroll Inc. He served six years as a member of the Boone County Planning Commission. Mr. Brandstetter will serve on the Council through December 2020. He was named vice chair in February 2017 and will serve in that role through January 2018.
Ronald C. Beal
Ronald C. Beal of Bowling Green is president of Luvata's Tubes Division with their main U.S. operations center in Franklin. Luvata is a global leader in the manufacture of copper tubes for the air conditioning and refrigeration industry. Beal's more than 28 years in the industry has given him hands-on experience in sales, marketing, engineering and manufacturing in countries around the world including China, Thailand and Mexico. Beal is a graduate of the College of Wooster with a bachelor's degree in geology and holds a master's degree in business from Ashland University. Mr. Beal will serve on the Council through December 2017.
Maryanne H. Elliott
Maryanne Honeycutt Elliott of Louisville is the founder of The Acorn Group. She is a formally trained leadership coach from Georgetown University in Washington, D.C., and certified by Priority Management Systems. She is also a certified speaker for Vistage International, a global mentoring company for CEOs and entrepreneurs, and also for SOAR, a leadership development program for high potential women. Ms. Elliott earned a Master in Business Administration from the University of Louisville, a B.A. from Furman University in Political Science and English. She is an ACC certified coach by the International Coach Federation. Ms. Elliott will serve on the Council through December 2017.
Joe E. Ellis, O.D.
Joe E. Ellis is a Doctor of Optometry and is the owner of EyeCare Associates of Kentucky in Benton. He attended Southern College of Optometry in Memphis, Tennessee from 1982-1986, receiving a Doctor of Optometry degree and attended Murray State University in Murray from 1975-1979 receiving a degree in biology. He has served as president for the Kentucky Optometric Association and past Kentucky Trustee. In 2001, Dr. Ellis was elected by his peers to serve on the board of trustees of the American Optometric Association. Other honors include 2010-11 President of the American Optometric Association. Dr. Ellis will serve on the Council through December 2018.
Dan E. Flanagan
Dan E. Flanagan of Campbellsville operates a large farming business and is a retired pastor. He has held several positions in state government, including deputy commissioner of the Kentucky Department of Agriculture, and various positions at Campbellsville University for a number of years. He holds degrees from the University of Louisville Kent School of Social Work, the Southern Baptist Theological Seminary and Campbellsville University. He served as the Council's vice chair from February 2012 through January 2015. Mr. Flanagan has served 2 full terms of membership on the Council, having been appointed in 2005, and will continue to serve until a new member is appointed by the Governor.
Lucas Mentzer
Lucas Mentzer of Lexington is the enterprise manager for acquisitions and mergers with Lexmark International. He has more than 16 years of experience in information technology at the state, national and global level. Mentzer holds a bachelor's degree in computer science from Centre College. He has been actively involved in the Lexmark mentoring program for high school students across Kentucky who are interested in STEM fields. In addition, he serves as the technical adviser for the Wilderness Trace Child Development Center charity organization focused on providing early education to developmentally delayed children. Mr. Mentzer will serve on the Council through December 2022.
Donna Moore
Donna Moore of Lexington retired from Kentucky Educational Television in 2004. During her 30 years at KET she was senior producer of public affairs and director of programming before being named deputy executive director for programming and production. She chaired the Governor's Education Transition Team in 2007. She currently chairs the Midway University Board of Trustees, The Women's Network, the KET Authority and serves on various community boards. She holds an associate degree from Midway College and a Bachelor of Arts in business education from the University of Kentucky. Ms. Moore will serve on the Council through December 2019.
Vidya Ravichandran
Vidya Ravichandran of Louisville is a technology entrepreneur and owner of GlowTouch Technologies in Louisville. She serves on many boards including the KentuckianaWorks Board of Trustees; Kentucky One Hospital Foundation Board, Mission and Stewardship Committee; Speed Art Museum, Board of Governors; Fund for the Arts Board of Trustees; Walden School Board of Trustees, Diversity Committee; and DuPont Manual High School Executive Committee and President of DuPont Manual Regional Science Fair. She is passionate about increasing student involvement in STEM fields and is an advocate for women in STEM. Ravichandran is a graduate of University of Agricultural Sciences in Bangalore, India, and holds a master's degree in molecular biology in horticulture from Virginia Tech. She will serve on the Council through December 2021.
Shawn Reynolds
Shawn Reynolds of Almo is a location manager and loan officer at Independence Bank in Murray. While serving in the United States Marine Corps Reserves, he attended Murray State University and earned a Bachelor of Science in business administration. Reynolds is active in the community and serves on the Murray State Alumni Board of Governors, Murray State University Foundation Board, Calloway County Extension Office Board, Junior Achievement of Murray/Calloway County and the Wrather Museum Advisory Board. Reynolds will serve on the Council through December 2022.
Robert H. Staat
Robert Staat, Ph.D., of Goshen, is the faculty representative to the Council. He joined the University of Louisville in 1976 as a professor of microbiology. In addition to his teaching duties and research on infectious dental diseases, he serves as a faculty senator and is the immediate past chair of the UofL Faculty Senate. Currently, he is a member of the UofL Athletic Association Board and the Coalition of Senate and Faculty Leaders. Dr. Staat's education includes a bachelor's and master's degree from the University of New Mexico and a doctoral degree from the University of Minnesota. In addition to his work in academia, Dr. Staat is a hobbyist and woodworker and is president of a model railroad manufacturing business. His term expires June 30, 2017.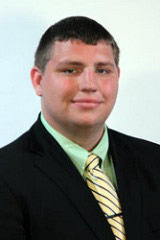 Sebastian Torres
Sebastian Torres is a student at Eastern Kentucky University pursuing a bachelor's degree in political science with a minor in history. As an undergraduate student, Mr. Torres is actively involved in EKU Student Government Association, serving as the executive vice president for the 2016-17 academic year and has attended several youth leadership schools and student activism conferences. He is also involved in his community as a volunteer for the Boy Scouts of America. Mr. Torres will serve on the Council as the student member through June 2017.
Carol Wright
Carol Wright of Tyner is president and CEO of Jackson Energy Cooperative, a non-profit electric cooperative headquartered in McKee that serves more than 52,000 members in 15 southeastern Kentucky counties. She has more than 26 years of experience in the electric utility industry. Ms. Wright is a graduate of the University of Kentucky where she earned a bachelor's degree in electrical engineering. She also earned a master's degree in business administration from Sullivan University. Ms. Wright served on the committee to establish the Lineman's Training Center at Somerset Community College that opened in 2004 and served as chairman of the Advisory Committee for more than 10 years. Wright is actively involved in multiple community and civic clubs in Jackson Energy's service territory. She will serve on the Council through December 2021.