At Kentucky colleges, URM students continue to close gaps. What's behind the trend?
June 02, 2021
A look at the successes and challenges over the past five years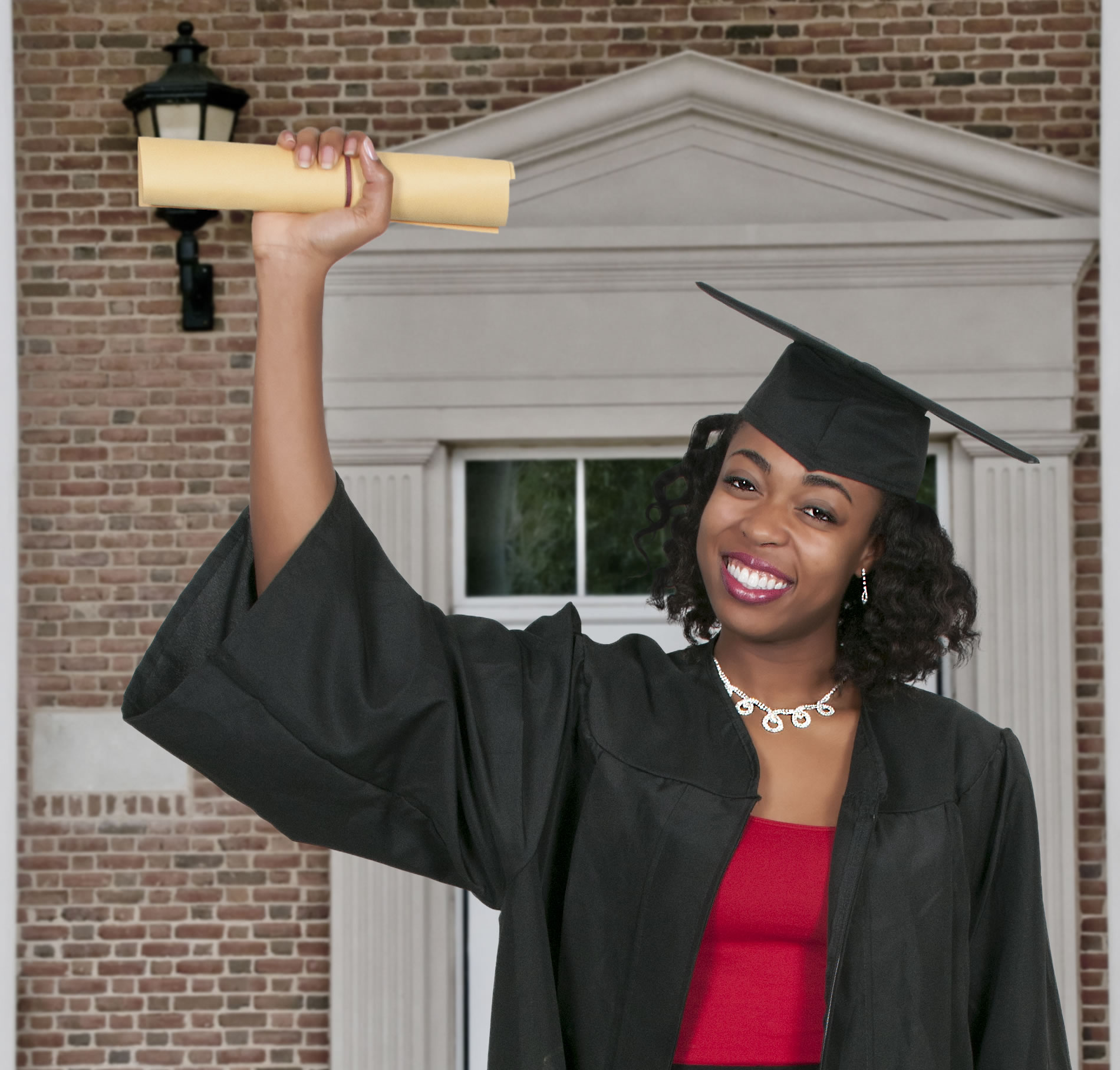 Over the past five years, minority students in Kentucky have gained significant ground in higher education, and campus leaders say a renewed focus on equity at every level is helping drive the progress.
Last month, CPE released its annual progress report showing that, among underrepresented minority (URM) students, enrollment, retention and graduation rates have continued to climb at an impressive pace.
CPE's statewide Policy for Diversity, Equity and Inclusion (DEI) emerged as a big player. It established goals for each campus and laid the groundwork to increase enrollment and success of both URM and low-income students.
Substantial organizational and cultural changes are occurring at the campuses as well, and the majority of Kentucky's public campuses have restructured leadership to elevate the work of diversity officers.
Campuses also have created support groups for students and faculty, increased professional development opportunities and amplified mental health services.
"Kentucky has been building momentum in DEI for years and that proved essential for our students during the pandemic," said Travis Powell, CPE's vice president and general counsel. "We had a firm foundation to design the next generation of services for students, and I believe these innovations will continue to advance Kentucky's progress moving forward."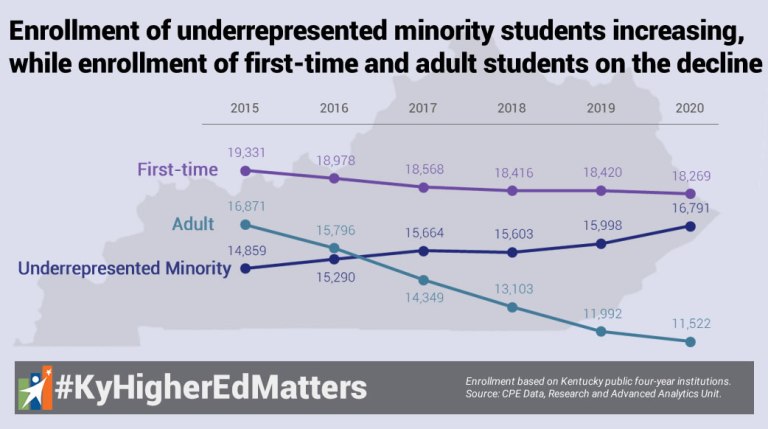 Enrollment on the rise
At Kentucky's public institutions, undergrad URM student enrollment rose almost 8% between academic years 2016 and 2021. That defied the trend for student enrollment overall, which dropped over 9% during the same period. URM students now comprise about 17% of Kentucky's total undergraduate enrollment.
KCTCS exemplifies this trend, with URM enrollment increasing 5% over the past five years even though total enrollment dropped 11.7%.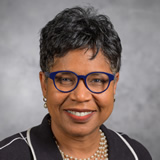 Natalie Gibson, KCTCS associate vice president, said colleges in the system are partnering with local K-12 schools and community organizations to strengthen educational pathways for URM students, especially in rural areas.
For example, Henderson Community College and Madisonville Community College have created mentoring programs to support the academic success of African-American males while in college.
"The involvement of all levels -- college staff, faculty and even students -- has helped make these programs successful," Gibson said.
While the long-term gains by KCTCS are encouraging, URM enrollment in the system fell 5.75% this past year. Officials aren't sure how the pandemic will affect future enrollment, but they are using lessons learned from the past year to increase student support services.
"The pandemic created tremendous strain on our students, from child care to lost wages to mental health," Gibson said.
But, she added, the campus is investing federal stimulus dollars to help students tackle non-academic barriers like food insecurity, child care, transportation and finances.
Retention rates climb
Overall, Kentucky's public universities saw retention rates of URM students also overtake those of the total student population. Over the five-year period, retention of URM students increased 7 percentage points, compared to a 4.4 percentage point gain by the overall student population.
One way campuses are tackling this is through heightened engagement with students. For instance, Western Kentucky University's Intercultural Student Engagement Center Academy is one of the most innovative initiatives aimed at recruitment and retention of at-risk students.
The academy uses a living-learning community model that supports the students socially as well as academically. The center also has its own diversity recruitment office, outside the campus' admission center.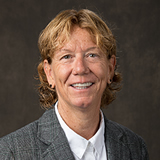 "This collaboration has made a huge impact on URM persistence and graduation rates," said Molly Kerby, WKU's assistant provost for institutional effectiveness. "We are continuing to embed diversity efforts in all aspects of our institutional planning and implementation processes."
That includes increasing cross-departmental awareness and communication, which has helped faculty develop inclusive pedagogy and advance equity in the classroom.
Degrees and credentials continue to grow
Some of the biggest gains for URM students occurred in degree production. URM bachelor's degrees increased 27% over the last five years, compared to 5.8% for all students.
At KCTCS, the gains have proven even more phenomenal, with 40% of URM students earning certificates or associate degrees compared to 28% for the overall student population.
A comprehensive institution illustrating this trend is Eastern Kentucky University. The campus increased total undergraduate credential production by 3%; however, credentials among URM students soared more than 37%. EKU credits changes in interdepartmental collaboration.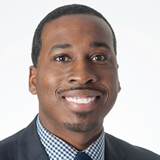 "There has been an increased commitment to live out what it truly means to be the School of Opportunity," said Dannie Moore, vice president for strategic initiatives and chief diversity, equity and inclusion officer at EKU. "Our diversity leaders are partnering with other members on leadership to ensure equity is at the core of all decision-making. These institutional shifts have played a significant role in positively impacting campus culture and creating a collaborative approach to supporting URM students."
The changes at the campus have increased wrap-around supports and institutional aid. They have also helped build the commitment to inclusion and to an environment of success for both students and faculty.
"This has truly created the culture where everyone wants to provide exceptional service and support to our students and reduce barriers," Moore said.
---
You might be interested in these stories:
Data-based solutions, focus on financial needs driving gains among low-income students
CPE report shows strong growth in minority degrees and credentials
---
Systemic Change
The gains made by URM students are a key contributor to Kentucky's goal of increasing credential attainment to 60% of the population by 2030. Ten years ago, total undergraduate credential production by URM students was just over half of the number in 2019-20.
CPE's restructuring of funding to a performance-based model in 2016 has helped align and prioritize state and institutional goals for URM student success. It also encourages campuses to take aggressive measures to close achievement gaps at every stage of pursuing a college credential: retention, time-to-degree and graduation.
Changes in accountability on a state level also have led to campus opportunities for learning and growth: Kentucky is the only state in the nation to tie diversity outcomes to new academic programs. Public colleges and universities that fail to meet their DEI goals lose eligibility to offer new academic programs until they develop a performance improvement plan. This allows institutions to realign services to the benefit of both the students and the institution.
"With both the pandemic and racial tensions, this past academic year has provided an opportunity for our campuses to both reflect and act on the diverse needs of their student populations," Powell said. "While it has been a tumultuous time, it has spurred some great innovations in services that will benefit our students and state in years to come."
---
Data note: Enrollment numbers: 2016-17 to 2020-21; Other metrics: 2015-16 to 2019-20.
Kentucky Community and Technical College System
Enrollment
Retention
Three-Year Graduation Rates
Credential Production
Overall
-11.7%
+4.5 pp
+9.5 pp
+28%
URM
+5.3%
+5.8 pp
+7.8 pp
+40%
Four-Year Public Universities Undergraduate Progress
Eastern Kentucky University
Enrollment
Retention
Six-Year Graduation Rates
Bachelor's Production
Overall
-15.5%
+5.5 pp
+7.3 pp
3%
URM
+6.2%
+16.2 pp
+1.2 pp
37%
Kentucky State University
Enrollment
Retention
Six-Year Graduation Rates
Bachelor's Production
Overall
+37%
+19.3 pp
+9.7 pp
-50%
URM
+75.5%
+17.8 pp
+7.2 pp
-34%
Morehead State University
Enrollment
Retention
Six-Year Graduation Rates
Bachelor's Production
Overall
-11.6%
+5.1 pp
-3.1 pp
-13%
URM
-6.5%
+3.4 pp
+1.8 pp
+6%
Murray State University
Enrollment
Retention
Six-Year Graduation Rates
Bachelor's Production
Overall
-10.7%
+6.9 pp
+4.5 pp
-2%
URM
-6.4%
+6.2 pp
-4.3 pp
+21%
Northern Kentucky University
Enrollment
Retention
Six-Year Graduation Rates
Bachelor's Production
Overall
-7.7%
+2.6 pp
+10.6 pp
+1%
URM
+2.4%
-.5 pp
+16.9 pp
+21%
University of Kentucky
Enrollment
Retention
Six-Year Graduation Rates
Bachelor's Production
Overall
-1.9%
+4.2 pp
+2.4 pp
+15%
URM
+2.85%
+5 pp
+1 pp
+45%
University of Louisville
Enrollment
Retention
Six-Year Graduation Rates
Bachelor's Production
Overall
+.05%
+1.2 pp
+7.6 pp
+15%
URM
+24.7%
+1.2 pp
+2.6 pp
+34%
Western Kentucky University
Enrollment
Retention
Six-Year Graduation Rates
Bachelor's Production
Overall
-13.1%
+4 pp
+3.2 pp
+8%
URM
-1.9%
+14.7 pp
+3 pp
+23%