BCTC program takes aim at opportunity gaps in dual credit
October 29, 2020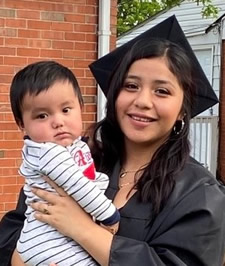 Jacky Bravo was excited to learn about different cultures and perspectives in her dual credit humanities course last year. But the lesson that most prepared her for college was her teacher's insistence on deadlines.
"Even though she was nice, she was really strict on the due dates so that we could get a taste of how college would be," Bravo said. "Every time she gave us a due date for something, she made sure we met it. And if we didn't know how to do it, she would help us."
Over the last year, more than 40 students like Bravo have participated in the innovative dual credit program through the Bluegrass Community and Technical College in Lexington.
The campus has partnered with three local high schools – Paul Laurence Dunbar, Bryan Station and Lafayette – to provide on-site, dual credit opportunities for underserved and underrepresented minority students.
Courses focus on history and humanities through the lens of African-American, Black, Latinx and indigenous perspectives and provide bilingual instruction.
"The rigor is probably a little harder than in some (college) classes," said Erin Howard, director of Latinx and immigrant services at BCTC. "Since the material is really reflective of the students' own experiences, their own cultural backgrounds and home backgrounds, they really dig into it and embrace what they are learning."
Results-driven approach
BCTC launched the program using a $50,000 Stronger by Degrees Student Success grant from the Kentucky Council on Postsecondary Education. CPE awarded the grants to five campuses last year for efforts that align with the Council's priorities.

"We wanted to encourage innovations around student progression and persistence, especially among low-income and underrepresented minority students," said CPE President Aaron Thompson. "BCTC's dual credit program shows how we can advance priorities on multiple levels at the same time, even when resources are tight."
Howard, who designed the program and teaches the courses, said the model has shown success in preparing students for higher education.
Of the 38 students enrolled in the 2019-20 academic year, 17 met college readiness standards and another 17 showed significant improvement. Some students increased their college readiness scores by triple digits. In addition, of the 27 high school seniors in the program last year, 24 are now attending college.
"We are seeing a good persistence rate," Howard said.
Bravo is one of the students pushing ahead. The college freshman is studying business with 12 hours at BCTC this semester, and she hopes to attend Eastern Kentucky University after earning her associate degree.
Bravo said she was skeptical of taking a humanities course at first, but Howard quickly became one of her favorite teachers and helped her plot out a plan for college success.
"We had one-to-one talks during and after class to see if we knew what we wanted to do in college, and she showed us a lot of scholarships," Bravo said. "I think that really helped."
It's not just an exercise of bringing the classes to the campus, but also about getting to know the students and meeting them where they are at.

- Erin Howard, BCTC
Improving outcomes and closing gaps
A recent study by CPE indicates that Kentucky could benefit from providing more programs like the one at BCTC. That's because dual credit students are more likely to continue college for a second year and earn higher grades.
In fact, among underrepresented minority, low-income students, participation in dual credit increased second-year persistence by over 8 percentage points, according to the study. The likelihood of earning a 3.0 GPA or higher in their first year also increased by over 8 percentage points.
A dual credit experience also had a slightly greater effect on the second-year persistence for underrepresented minority students, compared to white and Asian students, helping narrow achievement gaps.
Based on those results, CPE is recommending more outreach to middle and high school students, particularly those in low-income and minority groups, to advise them about dual credit opportunities.
The Council also recommends ensuring dual credit courses are accessible during the school day and providing additional financial assistance to help low-income students cover costs.
Honing student strengths
Howard said she was concerned about a lack of African-American and Latinx participation in dual credit courses when she designed the program at BCTC. Students had told her that they were not aware of dual credit opportunities and lacked the confidence to do college-level work.
Howard said she wanted to address those gaps and help students view their experiences and knowledge of multiple languages as an asset.
The program has scaled back amid COVID-19, but BCTC is pulling together funds to return at full force by the spring or next fall. In the meantime, one key to success has been maintaining strong relationships with the high schools and students, Howard said.
"It's really important the classes be taught and planned for very intentionally and carefully," she said. "It's not just an exercise of bringing the classes to the campus, but also about getting to know the students and meeting them where they are at."