Council on Postsecondary Education elects leadership
January 30, 2023
The Council also approved an academic review policy for KCTCS, amended KSU Management Improvement Plan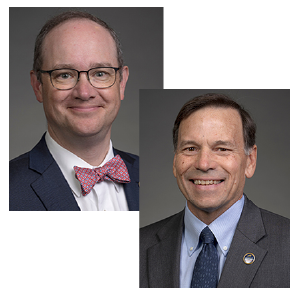 The Council on Postsecondary Education elected Madison Silvert to serve as the 2023 chair and re-elected Eric Farris as vice chair at its meeting on Jan. 27.
Silvert of Owensboro is the president of The Malcolm Bryant Corporation, a full-service real estate development firm. He is a member of the Advisory Council for the Federal Reserve Bank of St. Louis. He has served on numerous boards, including SACS Committee on Colleges, the Kentucky Association for Economic Development, and the Kentucky Workforce Innovation Board. He was first appointed to the Council on April 9, 2021.
Farris of Shepherdsville is a partner at Dinsmore & Shohl, LLP. He was a member of Gov. Andy Beshear's transition team for economic development and currently serves on the Kentucky Governors Scholars Board and the Bullitt County Foundation for Excellence in Public Education. He was appointed to the Council on Sept. 15, 2020.
"I'm grateful to Madison and Eric for their dedication to higher education and willingness to lead the council," said CPE President Aaron Thompson. "Their valuable experience in business and education will help us bridge the gap between those two sectors, strengthen our postsecondary system and grow our economy."
The Council also swore in three new members, who were appointed to the Council by Beshear on Jan. 23.
Jennifer Collins of London is a retired teacher. She replaces Lori Harper, whose term has expired, and will serve for a term expiring Dec. 31, 2028.
Meredith Figg of Beaver Dam is the director of health services at Rice's Pharmacy, Inc. She replaces Lucas Mentzer, whose term has expired, and will serve for a term expiring Dec. 31, 2028.
LaDonna Rogers of Glasgow is the executive vice president of engagement and culture at T.J. Samson Community Hospital. She replaces Richard Nelson, whose term has expired, and will serve for a term expiring Dec. 31, 2028.
In other action, the Council approved an academic program review policy for the Kentucky Community and Technical College System. The academic program review process is a key responsibility of state coordinating boards like CPE and helps ensure program quality, economic viability. The approved KCTCS process determines if a new program is central to institutional mission and statewide goals, academic quality, student success, and program outcomes and impact.
The Council also approved an amendment to Kentucky State University Management Plan, which the Council adopted in October 2022. On Oct. 12, 2022, KSU's Board of Regents approved a declaration of emergency relating to campus facilities, transportation, maintenance and custodial services. The declaration indicated the university requires onsite expertise in facility management to improve the use and maintenance of its assets while also controlling costs. The Council approved KSU's request for $1.2 million in fiscal year 2023 to support these facilities and infrastructure expenditures.
In other business, the Council:
Received reports from CPE President Aaron Thompson and KDE Commissioner Jason Glass.
Heard reports from the Academic and Strategic Initiatives Committee, Finance Committee, Executive Committee, Committee on Equal Opportunities and Good News reports from the campuses.
Heard that CPE received a clean Fiscal Year 2022 financial audit report with no deficiencies.
Issued proclamations for outstanding service to outgoing CPE members Lucas Mentzer, Lori Harper and Richard Nelson.
The next meeting of the Council will be held March 30-31 at Eastern Kentucky University.