FAFSA bill is key to college enrollment and affordability
February 23, 2023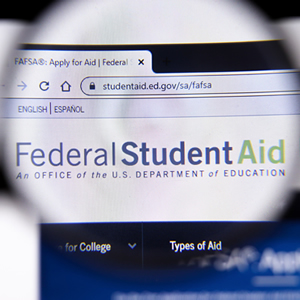 This Financial Aid Awareness Month, the Kentucky Council on Postsecondary Education is emphasizing the importance of the Free Application for Federal Student Aid, or FAFSA, to keeping college affordable for Kentuckians.
The FAFSA is how students obtain federal and state financial aid for college. However, only 55% of Kentucky's high school class of 2021 completed their FAFSA, leaving $54.4 million in Pell Grant aid unclaimed.
A bill introduced into the Kentucky General Assembly this month would help address the commonwealth's FAFSA completion rates by requiring high school students to fill out the FAFSA before they can graduate. In addition to the graduation requirement, the bill provides waiver options for meeting the requirement and requires local boards of education to develop policies and procedures to assist students in completing the requirement. The bill also requires reporting requirements.
"House Bill 171 would give every Kentucky student the opportunity to understand their financial aid options so they can make informed choices about furthering their education," said CPE President Aaron Thompson. "The FAFSA asks students and their families to provide basic information to determine their eligibility for federal and state aid, as well as other scholarships, that can make the difference in whether someone chooses to attend college."
The U.S. Department of Education distributes more than $120 billion in federal grants, loans and work-study funds each year. For the 2022-23 award year, students were eligible for up to $6,895 in federally funded Pell Grant aid. Pell Grants do not need to be paid back, which means they don't contribute to student loan debt. The benefits of FAFSA completion extend beyond federal aid; the applications are also instrumental in obtaining assistance from the state and higher education institutions.
Students who submit a FAFSA form enroll in college at significantly higher rates. The National College Attainment Network reports that 90% of high school seniors who complete a FAFSA application attend college directly from high school. That's compared to just 55% of those who do not complete a form.
The FAFSA has been significantly simplified in recent years and asks students to provide information that is already being provided to the government via tax filings and other official documents. Most applicants can complete the process in under 30 minutes. A federal law, the Family Educational Rights and Privacy Act of 1974 (FERPA), safeguards the privacy of educational records, including applications for financial aid.
"It is clear that increased FAFSA completion rates would increase educational attainment in the state, helping build a stronger workforce that meets the current needs of business and industry," said Thompson. "The FAFSA bill would help thousands of Kentucky students and their families better understand their options for paying for college and access financial resources that already exist, while allowing students a way to opt-out so that FAFSA completion requirements do not prevent any students from graduating high school. It is a win-win."