Kentucky campuses head into fall 2020 with more resources, new game plans
July 29, 2020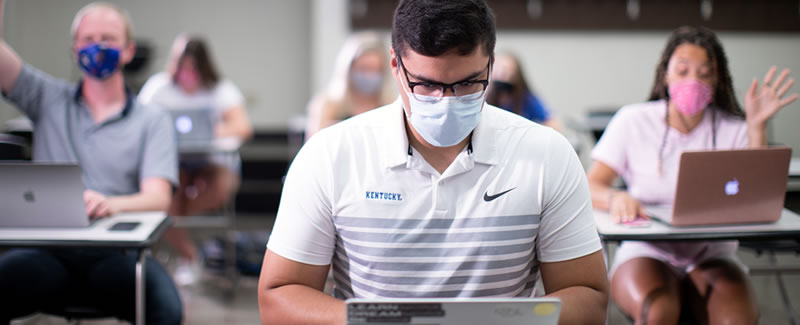 Kentucky colleges and universities are sounding an optimistic note as they prepare to kick off the fall semester with a mix of in-person and online instruction along with new measures to protect health and test students for COVID-19.
Nearly all of Kentucky's public campuses expect to begin classes in mid- to late-August and end the semester by mid-December at the latest. Most are also adjusting holiday schedules to accommodate more instructional days and planning to wrap up in-person classes around Thanksgiving.
"Campuses are following strict guidelines," said Aaron Thompson, president of the Kentucky Council on Postsecondary Education, which issued recommendations in May on navigating the pandemic. Since then, campuses have submitted detailed response plans to CPE covering a range of contingencies.
"We've seen an exceptional effort to organize quickly and develop innovative solutions for the fall, but I'm most impressed with the level of care and concern for people," Thompson said. "The health of students, faculty and staff is clearly the top priority."
We're preparing to welcome you back! You can see our full welcome back plan at: https://t.co/QdGf1r82xZ pic.twitter.com/ImS9h11pPm

— KCTCS (@KCTCS) June 17, 2020
Testing, technology and apps
Campus plans involve an extensive lineup of interventions and support services along with broad flexibility for in-person and online learning. Efforts include on-campus quarantine spaces, providing masks to students and employees, and conducting daily health checks.
At the University of Kentucky, the educational approach will center largely on in-person instruction. Administrators are lowering classroom capacity by 50% to 70%, depending on the space, and outfitting 90% of classrooms with the technology for streaming lessons online.
UK has announced a massive push to test 30,000 students for COVID-19 by late August, using drive-through and walk-up testing sites. The university has also established a 15-person "Health Corps" to help with contact tracing and connect students and employees with resources.
In addition to testing, UK is launching a digital app that students, faculty and staff will use to screen themselves for symptoms each morning.
"There are going to be times when a student is ill that day, or not feeling well, and the best course of action is for them to stay in their residence hall room," said UK spokesman Jay Blanton. "We want to make sure we have the technology in place that will allow them to see the lecture online."
Many things will look different when our Wildcats return to campus next month. We all have to do our part to ensure the health and safety of our community. We will be providing free COVID-19 tests for all students this fall. (1/5)

Read more ↓https://t.co/huqDYLF6ll

— #MaskUpCats (@universityofky) July 21, 2020
Infrastructure and adaptability
Blanton said the campus benefits from infrastructure investments that have added 6 million square feet of new space in recent years.
Ballrooms in UK's updated student center, for instance, can serve as classrooms for several hundred students while maintaining safe distances between people. UK has also built space for 7,500 new residence beds.
The university outlined its strategies in a 187-page "playbook" for reinventing operations amid the outbreak.
"It's really been an incredible, collaborative process to have 500 people across your campus working every day on different committees and work streams – all focused on how we respond to this pandemic and how we get ready to do the thing we do best, which is the residential educational experience," Blanton said.
Different models, same goals
While Kentucky's public colleges and universities are all placing a premium on health, the specific plans differ by campus.
At the Kentucky Community and Technical College System, about a third of all classes were already online before the pandemic hit. Colleges in the system are focusing mostly on hybrid and "flex" models that combine in-person and remote learning. However, courses with a strong technical or clinical component will primarily meet face to face.
Campuses reopened in May so students could complete labs, and summer classes have gone well, whether online or in-person, said KCTCS Chancellor Kris Williams. Colleges in the system have moved deliberately to implement all the guidelines and provide engaging instruction, she said.
"The colleges are working very hard to make sure that each faculty member, staff member and student have options that meet their health needs or other concerns from being in a classroom," Williams said. "Everyone is trying to be very flexible and meet individual needs."
Redefining normal
In Frankfort, Kentucky State University began to reintroduce its on-campus workforce about a month ago using Gov. Andy Beshear's "Healthy at Work" guidelines.
Right now, about 20% of employees are working on campus, and some areas of the workforce could increase to 50% depending on need. However, the university doesn't plan to exceed that level until a vaccine is available.
Have you taken some time to check out the #HealthyatWork website? Be informed and make healthy decisions. Guidance and dates for reopening of certain activities/facilities can be found at https://t.co/PcPqAhYFFG#TeamKentucky #TogetherKY

— Kentucky Department for Public Health (@KYHealthAlerts) June 22, 2020
"It is really working well," said KSU President M. Christopher Brown II. "People are feeling productive. Our division heads say the work is getting done, so we don't want to break that."
Faculty members at KSU have the option to teach completely online or have face-to-face instruction for a maximum of one day a week. Residence halls will also operate at reduced ratios.
"I'm excited about the tenacity of the staff and the faculty to invent new ways to fulfill our mission and deliver our services to the students," Brown said. "They have been unwavering in that commitment. They have been very clear that they will do everything in their power to make it work."
KSU's Pre-College Academy has provided particularly useful insight about student behavior in recent months. The program allows incoming freshmen to take nine credit hours over the summer to adjust to college-level work.
Brown said the university monitored how those students have socialized, interacted in residence halls and managed food pick-up. That information has shaped guidance and considerations for the fall, he said.
Brown also points to another trend among students – they are embracing masks as a fashion accessory. And while adults are eager to get back to normal, students are embracing the challenges of a "new normal," he said.
"It's a very different approach to defining the college experience," said Brown. "What I'm hearing young people say is 'we want to get to work defining the future of college.'"