Moody's forecast points to falling revenue even with rising college enrollment
September 29, 2020
Moody's Investors Service is raising alarms in Kentucky that while rising unemployment may drive up college enrollment in the near term, students will face greater difficulties paying tuition, causing revenues to fall at a time when state funding remains scarce.
Moody's research predicts that a sharp rise in unemployment related to COVID-19 could help boost enrollment by 2% to 4% nationally as students turn to higher education for new job skills or seek to ride out the down economy.
However, analysts say students are more likely to gravitate toward lower cost options, such as moving from private schools to in-state public schools or switching from four-year universities to community colleges.
They also anticipate that colleges could lose revenue from a drop in international students, endure softer demand for auxiliary services like housing, and face greater pressure to discount tuition or increase financial aid. That could add up to a 5% to 13% decline in net tuition and net auxiliary revenue.
"I think these issues around affordability are here for the foreseeable future...." - Susan Fitzgerald, Moody's Investors Service
"Some of the constraints that were already there in terms of affordability are really coming home this year," said Susan Fitzgerald, associate managing director for global higher education at Moody's. "I don't think we think this is a one-year thing. I think these issues around affordability are here for the foreseeable future and will limit the growth of tuition revenue."
Moody's provided the report to the Kentucky Council on Postsecondary Education (CPE) earlier this month.
The forecast comes at a time when public funding for Kentucky colleges is lagging behind most other states. Moody's notes that while government allocations grew in most states last year – in some cases by more than 10% – funding in Kentucky remained nearly flat.
At the same time, Kentucky is among the states with the highest unfunded pension liabilities, leaving universities more vulnerable to economic and fiscal disruptions, according to the Moody's report.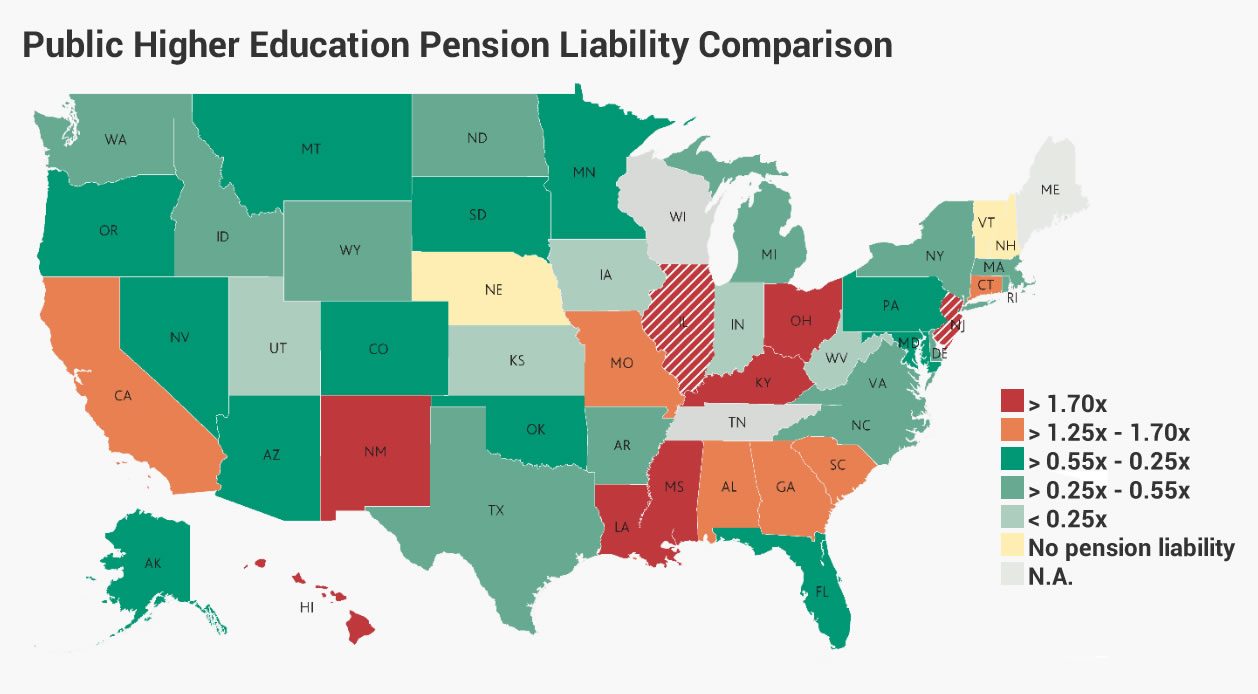 Estimates from CPE also show that public campuses already suffered a $144.8 million financial hit in fiscal year 2020 due to the pandemic.
Meanwhile, the CPE has sought to keep tuition increases as low as possible this year to preserve affordability and protect student pocketbooks. The Council worked with campus leaders this summer to hold the average tuition increase to only 0.7%, the smallest increase in decades. But campus budget officials have warned that forgoing tuition hikes could also create millions in revenue shortfalls.
CPE President Aaron Thompson said higher education is a vital resource as Kentucky works toward economic recovery, and the state must protect affordability and access along with academic quality.
"However, we are facing a confluence of tremendous challenges that will complicate that process," he said. "Many of our state's top leaders in government and business have expressed the same concerns, and I look forward to continue working with them over the coming months to address these issues."
Moody's had revised its outlook for higher education to stable in December, but lowered expectations to negative in March as the pandemic began to take hold.
Despite the challenges across the nation, Mary Kay Cooney, vice president and senior analyst for higher education and not-for-profits at Moody's, said the service is not expecting a "massive fallout." Campus leadership teams have shown resiliency and responded rapidly to the crisis, she said, and some are implementing new debt strategies.
"Overall the higher education sector is becoming much more agile," Cooney said. "There is more focus on customer needs, and the universities are strengthening their risk management strategies. So some real important takeaways – something for universities to be proud of as they move through this very challenging time period."