Q&A with Ben Brandstetter, CPE vice chair
April 01, 2019
What motivates you to volunteer your time on the CPE?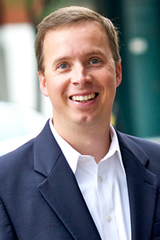 I truly see this role as an opportunity to serve the commonwealth on a statewide basis. Higher education plays such a crucial role in the long-term success of the state. It is an honor to be able to bring my talents to the table so that we can implement the strategic agenda's primary goal of having 60% of citizens with a postsecondary credential by 2030.
What issue(s) are the most important to you and why?
There are a number of items that I am passionate about, and the solution to them comes back to growing the system. Growth will allow us to grow campuses, grow our graduates, and ultimately grow the economic output of our state.
Do you believe Kentucky higher education is headed in the right direction? Why or why not?
I do believe that higher education faces a number of headwinds that we must overcome. The primary one is the total public spending allocated to our campuses. For this topic, we must come face-to-face with the economic realities of the state and understand that new funding is unlikely in the near term. However, that does not give those involved an excuse not to perform. We must find new ways to work together to still achieve the goals laid out in the areas of opportunity, success, and impact in our strategic agenda. There are solutions across the country that have been tested in other states that we need to evaluate and bring to Kentucky, such as a "Degree in 3" program. This program creates a pathway for students to complete a liberal arts degree in less time, which will ultimately save them money. We also need to look at whether our tuition policy is incentivizing the behavior that will help us meet our 60% by 2030 goal. Additionally, we need to determine if the risk of long-term student success can be borne more by the schools through the use of Income-share models for tuition.
We firmly believe that the success of the system will be judged by how well our campuses perform against the Strategic agenda. We have developed new tools to review our key performance indicators to track our progress against these benchmarks. And, this is why we have aligned an incentive package for President Thompson directly tied to components in those three areas.
What are you looking forward to accomplishing this year on the CPE?
I see 2019 being a year in which the full abilities of President Thompson will be opened up to drive an agenda of growth for our campuses across the state. We are in the beginning phases of a time of population contraction in Kentucky. Higher education can provide the opportunity to "short circuit" this trend by attracting new young people to our state. We have phenomenal institutions that can provide all students, no matter where they grew up, with a quality education at an affordable price. We have an opportunity to incentivize a student based upon their future contributions. Once we do that, we will educate more people to become the future economic drivers of this state.
What book are you currently reading?
I am currently reading a book titled the "Culture Code." The author discusses how cultural differences across the world affect how products are designed, marketed and purchased.
What do you want readers to know that I didn't ask you?
I have been extremely blessed by the opportunity to meet some amazing people in my life. Through these experiences, it has shown me that surrounding yourself with quality people is key. In addition to that, getting good people in the same room to discuss any topic is always a good thing. Sometimes the best ideas are a result of quality people showing up to bring their perspective to the table.
Ben Brandstetter of Hebron is the president of Brandstetter Carroll Inc., a national architectural and engineering firm. His bio is available on the CPE website.