Q&A with Sherrill Zimmerman, CPE chair
April 01, 2019
What motivates you to volunteer your time on the CPE?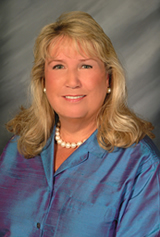 Student success has been a lifelong passion of mine. As an educator who came from a family of educators, I've seen the difference that education makes in the lives of students and their entire families. Serving on the CPE gives me the opportunity to help shape policies that will help ensure the success of students across the state. That is very rewarding to me.
What issue(s) are the most important to you and why?
I believe we need to increase funding for higher education from the state. Unfortunately, Kentucky is one of a very few states that has not started to reinvest in higher education since the recession. Our four-year universities and the community and technical colleges are having to do more with less to meet the needs of all students. Funding directly affects student achievement, attraction of high level faculty, research opportunities, maintenance of facilities and security. The burden is being placed on the backs of students and their families by increased tuition costs to cover a portion of lost funding. We need to build a stronger and more educated workforce so our economy can soar. This is not the only answer but it CAN be a defining answer to help raise the education level of people throughout the state.
Two other areas of importance to me are raising the college-going rate and increasing the rate of student persistence to graduation.
Is Kentucky higher education headed in the right direction? Why or why not?
We're doing many things well, so yes, we are on the right track. Our campuses have grown more efficient, they have strong leadership, and they are laser-focused on student retention and completion. At the state level, we have a diversity and inclusion policy, a plan to raise education attainment to 60 percent of the adult population by 2030, and a performance funding model that will help achieve all our goals. But, a big challenge is that the state share of funding per student has decreased significantly, which places more of the cost of college onto students and their families.
What are you looking forward to accomplishing this year on the CPE?
I'm looking forward to moving the needle on key performance metrics such as the college-going rate, retention and certificate and degree completions for all our demographic groups. Also, I'm looking forward to working with our board members and CPE President Aaron Thompson.
What book are you currently reading?
"Becoming," a personal memoir by former First Lady Michelle Obama, is next up on my reading list.
What do you want readers to know that I didn't ask you?
I would like people to know that our 15 CPE members are committed to making a difference through their service on CPE. Our members bring a wide variety of perspectives to the table. And, as each perspective gets added to the conversation, I find that we develop better outcomes. It truly is an honor for me to work with such a talented group of individuals.
Sherrill Zimmerman is a retired educator from Louisville where she was a teacher, assistant principal and a magnet program coordinator for Jefferson County Public Schools. Her bio is available on the CPE website.