Q&A with Carrie Welton: Supporting students' basic needs
February 09, 2023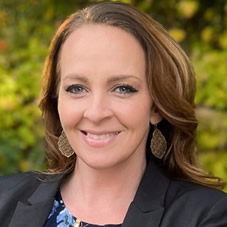 Many students face challenges accessing and completing a postsecondary credential due to affordability and living costs. A variety of public programs exist that can support students' basic needs, and institutions play a critical role in ensuring they are aware of and know how to access the full scope of resources available to them. During CPE's Student Success Summit, Carrie R. Welton will help us explore how connecting students to public benefits complements existing higher education efforts to help students succeed.
Welton is senior director at the Institute for College Access and Success (TICAS), where her work focuses on improving federal and state policies to better support the ability of people with low incomes to access and complete a postsecondary credential. She has experiences as a trusted public benefits policy expert for the Hope Center for College, Community, and Justice and the Center for Law and Social Policy in Washington, D.C.
Join Welton at the CPE Student Success Summit, Feb. 27-28 at the University of Kentucky Gatton Student Center, for her breakout session, Continue the Path: Basic Needs Ecosystem. Register here: cpe.ky.gov/studentsuccess/index.html.
Why is this issue a top priority for student success?
More students with lower incomes are enrolling in postsecondary education because they recognize the value and importance of education to their economic mobility. But because they start out with fewer resources, they face additional barriers to success. Some of the federal programs designed to support individuals with low income to achieve financial stability are restricted for individuals enrolled in postsecondary programs. Learning about the programs and flexible ways states can manage program eligibility can enhance supports and success of students with low income.
What are your main learnings and insights from the field?
What we've learned is that supporting students' basic needs can improve their completion of a credential or degree of value. Postsecondary institutions have a lot of programs and resources available to support students that they are not leveraging to maximize the support available to students. Institutions may want to learn about the programs and resources to connect students to supports and bolster the institution's goals to help students persist and complete a credential.
What will faculty and staff gain from their participation?
Faculty and staff will gain an understanding of the programs that are available that could support students' food, housing, childcare and transportation needs. There are also a variety of activities higher education institutions can do to help connect students to basic needs support with both low-hanging fruit opportunities and longer-term systemic changes. This session will offer a great starting point for campus leaders, frontline support staff and institutional teams to identify the ways they can start connecting the dots for their students and increasing access to resources to remove barriers and increase their chances of success.