Higher Education Matters Podcast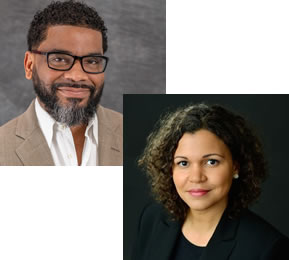 Education advocates, policy experts, business leaders, and members of the college and university community across Kentucky join hosts Rick Smith, CPE's associate vice president for workforce and economic development and KCTS's Haley McCoy, executive director of economic development, to explore how higher education impacts every aspect of our lives—from the economy to our health to civic engagement and community development.
This podcast has been created, in part, to support the Council's priority of increasing the public's positive perceptions around higher education. To learn more about work in this area, visit the Council's Higher Education Matters webpage, the Higher Education Matters promotional campaign overview, or the Council's strategic agenda, which drives work on this priority.

Check out other podcast, Well Advised, on our Kentucky Advising Academy page. This limited series is aimed at guidance counselors wanting to up their college knowledge game when it comes to assisting students with school selection, filling out paperwork, tactics for affordability and more.
Stay connected for the latest Higher Education Matters episodes
Subscribe on these platforms:
---
Listen to episodes here
Episode 4: Dreaming Big with Derrick Ramsey
Former Kentucky Secretary of Education and Workforce Development and member of the University of Kentucky's Board of Trustees Derrick Ramsey discusses training Kentucky's workforce and the value of apprenticeships and certificates. He also reflects on his journey from a first-generation college student to a professional football player to a leader in Kentucky's education community.
Episode 3: Higher Education's Return on Investment
Is college worth the investment? The public perception that college is worth the time and money is declining, especially among low-income Americans. In this episode, Brigitte Blom, president and CEO of the Prichard Committee, discusses how crucial increasing educational attainment is to Kentucky's economy. Next, former CPE researcher Grace Dai uses data to bust myths around college affordability and the return on investment of college degrees and credentials.
Resources:
Episode 2: Diversity, Equity and Inclusion
Dr. Dawn Offutt, executive director of initiatives for diversity, equity and inclusion at the Kentucky Council on Postsecondary Education, joins Rick and Haley to talk about cultural competency in colleges and the outsized impact of higher education on addressing inequities in society as a whole.
Our second guest is Dr. Martha Sales, dean of students, assistant vice president of student life and executive director of TRIO Programs and the Intercultural Student Engagement Center at Western Kentucky University. Dr. Sales discusses how COVID-19 exposed inequities within the higher education system, the resiliency of underrepresented minority students and the importance of meeting students' unique needs. She also discusses WKU's Inclusive Teaching Academy, the first program to be awarded CPE's cultural competency credential certification.
Resources:
Episode 1: Dr. Aaron Thompson, president of the Kentucky Council on Postsecondary Education
Dr. Aaron Thompson, president of the Kentucky Council on Postsecondary Education, discusses the return on investment of college for both students and the state, Kentucky's success at closing opportunity gaps, and how to connect higher education with the needs of employers. Thompson, a first-generation college-goer, also shares how college changed the trajectory of his life and the importance of mentorship.
Episode 0: Meet Your Hosts
Meet your hosts Rick Smith, associate vice president of economic and workforce development at the Kentucky Council on Postsecondary Education, and Haley McCoy, executive director of economic development at the Kentucky Community and Technical College System. Plus, get a sneak peek at what you can expect from the Higher Education Matters podcast.