Higher Education Matters Podcast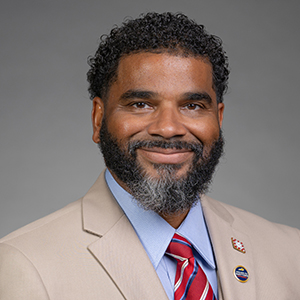 Education advocates, policy experts, business leaders, and members of the college and university community across Kentucky join host Dr. Rick Smith, CPE's vice president for external relations and economic partnerships, to explore how higher education impacts every aspect of our lives—from the economy to our health to civic engagement and community development.
This podcast has been created, in part, to support the Council's priority of increasing the public's positive perceptions around higher education. To learn more about work in this area, visit the Council's Higher Education Matters webpage, the Higher Education Matters promotional campaign overview, or the Council's strategic agenda, which drives work on this priority.

Check out other podcast, Well Advised, on our Kentucky Advising Academy page. This limited series is aimed at guidance counselors wanting to up their college knowledge game when it comes to assisting students with school selection, filling out paperwork, tactics for affordability and more.
Stay connected for the latest Higher Education Matters episodes
Subscribe on these platforms:
---
Listen to episodes here
Episode 21: The CLIMB Initiative: Climbing into Career and Recovery
Join us as we delve into meeting Kentucky's mental healthcare needs. Carl Wilson, with CPE's Healthcare Workforce Initiatives Unit, discusses CLIMB-Health, a statewide initiative building postsecondary paths to counseling careers for those who have completed recovery/reentry programs.
Episode 20: United Negro College Fund
The United Negro College Fund (UNCF) is crucial in promoting access to higher education for African American students, both nationally and locally. Steve Miller, UNCF director of development for Kentucky's region, discusses upcoming fundraising events, the impact of the UNCF on student success and how Kentucky students can access the scholarship. In our second segment, Von Purdy, vice president of advancement and community engagement for Simmons College of Kentucky, joins the conversation and discusses how UNCF specifically supports Simmons students.
Episode 19: Student basic needs
One out of three Kentucky undergraduates is classified as a student with low income. While financial aid can help with tuition and fee costs for these students, often they are left struggling to pay for food and housing. In this episode, we talk to Dr. Lilly Massa-McKinley, executive director of the Kentucky Student Success Collaborative, about how the state is approaching this problem and CPE's latest report, Kentucky's Strategy and Recommendations for Addressing Student Basic Needs.
Learn more about the report here: https://cpe.ky.gov/data/reports/2023-SBNreport.pdf.
Episode 18: Affordability and student retention
At what point does affordability affect retention of Kentucky students? In this episode, we talk to CPE's Dr. Christopher Ledford, whose recent study defines that financial tipping point for Kentucky's two-year and four-year public students. We also look at national trends, take a deep dive into the results for URM and low-income populations, and talk about the policy implications. Learn more by reading the report.
#StudentDebt #KYHigherEd #FinancialAid
Episode 17: Affordability
Kentucky is currently is taking steps to assist students in the Commonwealth with providing guidance and promoting resources that assist with making postsecondary education affordable. Listen, as Leah Halliday, Program Coordinator for Affordable Learning Kentucky (A Kentucky Virtual Library initiative), as well as Shaun McKiernan, Executive Director of Finance and Budget for the Council on Postsecondary Education, discuss postsecondary affordability in Kentucky.
Episode 16: Student success
What factors help or hinder a student from making it to and through college? Dr. Rick Smith is joined by his colleagues from the Council on Postsecondary Education's Student Success Collaborative to talk about the myriad factors that make students successful in college from mental health to student basic needs to ease of transfer. Guests:
Dr. Lilly Massa-McKinley, executive director, CPE Kentucky Student Success Collaborative
Phyllis Clark, associate director, CPE Kentucky Student Success Collaborative
Dr. Beth Ann Collins, associate director, CPE Kentucky Student Success Collaborative
Episode 15: College affordability
Kim Dolan, director of outreach services at the Kentucky Higher Education Assistance Authority, joins the podcast to talk about the importance of the FAFSA and bust myths around college affordability.
Visit kheaa.com for more information on planning for college and financial aid.
Special Episode: Celebrating Black History Month
In this special episode of Higher Education Matters, CPE President Aaron Thompson talks to Rev. Andrew Baskin, professor emeritus at Berea College, about the history of the school and its significance to the education of Black Kentuckians.
Episode 13: Student mental health
Mental health has always been a key indicator of college completion, and highly-talented students are not reaching their potential because they do not have access to the same supports as their peers.
Dr. Zainab Okolo, strategy officer at Lumina Foundation, joins host Dr. Rick Smith to talk about the student mental health crisis and the correlating college enrollment crisis. They discuss challenges and opportunities around mental health care and ways forward to support students and create healthy communities on campus.
Dr. Okolo will give a keynote speech, National Mental Health Landscape and Strategies for Creating Sustainable Change, at CPE's Student Success Summit. The summit will take place Feb. 27-28 at the University of Kentucky Gatton Student Center. Learn more and register here: https://cpe.ky.gov/studentsuccess/index.html.
Episode 12: Training a Healthcare Workforce
The United States is facing a healthcare worker shortage crisis, and Kentucky is feeling the effects. Kris Williams, chancellor of the Kentucky Community and Technical College System, joins Rick and Haley to discuss innovative ways for higher education to get more Kentuckians into the healthcare workforce pipeline and remove barriers to success. Next, our hosts talk to CPE President Aaron Thompson about how the agency is bridging the gap between higher education and healthcare employers.
Episode 11: Higher education: A year in review
It was a big year for higher education in Kentucky. The state made an unprecedented investment in our higher education system. Kentucky led the way in improving college completion rates nationally. The Council on Postsecondary Education's new strategic agenda went into effect.
CPE President Aaron Thompson joins host Rick Smith to talk about the strides our higher education system made in 2022 and where we are going in the coming year.
Resources: Higher Education Matters: A Statewide Strategic Agenda for Kentucky Postsecondary Education, 2022-2030.
Episode 10: Building a Workforce Cradle to Career
Dr. Kish Cumi Price, commissioner of the Kentucky Department of Workforce Development and special advisor to the governor, has dedicated her career to supporting marginalized populations' access to education and work. She joins host Rick Smith to talk workforce shortages and how the private and public sectors can work together to provide cradle to career supports for a healthy, strong workforce.
Episode 9 - The Future of Public Education
Dr. Jason Glass, Kentucky commissioner of education, discusses the driving forces behind the teacher shortage, how K-12 and higher education work together to prepare students for the workforce and the state's vision for the future of public education.
Episode 8 - Addressing Barriers to Student Success
College can break patterns of generational poverty, but only if students have the support they need to further their education. Kim Welch of GEAR UP Kentucky joins us to talk about addressing financial, cultural, academic and logistical barriers to students enrolling in college and succeeding when they get there.
Episode 7: How to Create a College
"Because we are starting a college from the ground up, it gives us the opportunity to be innovative in the way that we interpret the structures of higher education." -- Kentucky College of Art and Design President Moira Scott Payne
Kentucky College of Art and Design President Moira Scott Payne and Vice President of Academic Affairs Joyce Ogden share the school's journey from a community art program to independent college. Learn more about KyCAD: kycad.org.
Episode 6: Addressing the Healthcare Workforce Shortage
CPE's Aaron Thompson and Leslie Sizemore join Rick Smith to discuss how to address the healthcare workforce shortage.
Nationally, there is a shortage of more than 1 million workers in the healthcare and social assistance fields driven by retirements and declining labor force participation. In Kentucky, the problem is compounded by a skills gap and the state's lower than average educational attainment rate.
CPE's Healthcare Workforce Collaborative is a first-of-its-kind partnership between colleges and universities, state agencies, the healthcare industry and the K-12 education system to address Kentucky's workforce crisis.
Episode 5: Building Strong Communities Through Higher Education
Dr. Serenity Wright, associate director for social innovation at the University of Kentucky, discusses how educators can go beyond academics to teach students how to think more creatively, engage in discourse effectively and contribute to their professional communities.
Episode 4: Dreaming Big with Derrick Ramsey
Former Kentucky Secretary of Education and Workforce Development and member of the University of Kentucky's Board of Trustees Derrick Ramsey discusses training Kentucky's workforce and the value of apprenticeships and certificates. He also reflects on his journey from a first-generation college student to a professional football player to a leader in Kentucky's education community.
Episode 3: Higher Education's Return on Investment
Is college worth the investment? The public perception that college is worth the time and money is declining, especially among low-income Americans. In this episode, Brigitte Blom, president and CEO of the Prichard Committee, discusses how crucial increasing educational attainment is to Kentucky's economy. Next, former CPE researcher Grace Dai uses data to bust myths around college affordability and the return on investment of college degrees and credentials.
Resources:
Episode 2: Diversity, Equity and Inclusion
Dr. Dawn Offutt, executive director of initiatives for diversity, equity and inclusion at the Kentucky Council on Postsecondary Education, joins Rick and Haley to talk about cultural competency in colleges and the outsized impact of higher education on addressing inequities in society as a whole.
Our second guest is Dr. Martha Sales, dean of students, assistant vice president of student life and executive director of TRIO Programs and the Intercultural Student Engagement Center at Western Kentucky University. Dr. Sales discusses how COVID-19 exposed inequities within the higher education system, the resiliency of underrepresented minority students and the importance of meeting students' unique needs. She also discusses WKU's Inclusive Teaching Academy, the first program to be awarded CPE's cultural competency credential certification.
Resources:
Episode 1: Dr. Aaron Thompson, president of the Kentucky Council on Postsecondary Education
Dr. Aaron Thompson, president of the Kentucky Council on Postsecondary Education, discusses the return on investment of college for both students and the state, Kentucky's success at closing opportunity gaps, and how to connect higher education with the needs of employers. Thompson, a first-generation college-goer, also shares how college changed the trajectory of his life and the importance of mentorship.
Episode 0: Meet Your Hosts
Meet your hosts Rick Smith, associate vice president of economic and workforce development at the Kentucky Council on Postsecondary Education, and Haley McCoy, executive director of economic development at the Kentucky Community and Technical College System. Plus, get a sneak peek at what you can expect from the Higher Education Matters podcast.