Commonwealth Education Continuum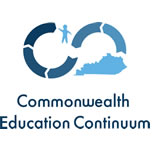 The Commonwealth Education Continuum (CEC) exists to strengthen Kentucky's education pipeline. Its work addresses the moral imperative for students to have access and opportunity to earn degrees and credentials that lead to sustainable, competitive-wage careers.
Established in 2021, the Continuum is co-chaired by Kentucky Lt. Governor Jacqueline Coleman, Kentucky Council on Postsecondary Education (CPE) President Dr. Aaron Thompson, and Kentucky Commissioner of Education Dr. Jason Glass. It consists of members whose expertise ranges from early childhood to the workforce.
Stakeholder Input and Data Analysis
The work of the CEC is grounded in extensive stakeholder input and analysis of Kentucky's education data. In 2021, the Education Strategy Group, in collaboration with the CPE, held a series of interviews and focus groups with representative stakeholders across the state.
In addition to stakeholder input, the CEC consults with an ad hoc data team collaborative including representatives from Kentucky Center for Statistics (KYSTATS), the Kentucky Department of Education (KDE) and the CPE. The data team provides statistics requested by or related to the priorities of the CEC and its workgroups. These data provide the CEC and stakeholders with historical context, illustrate Kentucky's current reality and inform future CEC initiatives, decision-making and policy recommendations.
Continuing Work of the CEC
As a result of its prioritized recommendations, the CEC created three work groups to address state-wide challenges and opportunities related to:
Ninth Grade On-Track: The purpose of the 9th grade on-track work group is to contribute to students' readiness for postsecondary options and success beginning in early grades - especially for Kentucky's underrepresented students. Their work is informed by current data and continuous input from focus groups and CEC members.
Early Postsecondary Opportunities (EPSO): The purpose of the EPSO work group is to expand access and attainment of early postsecondary opportunities (EPSOs) for all - especially Kentucky's underrepresented students - based upon current data and continuous input from focus groups and Commonwealth Education Continuum members. Additionally, the EPSO workgroup will provide recommendations to Kentucky's Dual Credit Advisory Council.
First Year Postsecondary Success: The purpose of the CEC First Year Postsecondary Success work group is to define first-year success and develop recommendations to expand access and success in Gateway coursework that enhance student retention and completion of high-quality postsecondary credentials and degrees - especially among Kentucky's underrepresented students, who are often disproportionately overrepresented in co-requisite courses.
---
Documentation
---