Kentucky's goal of 60% with degrees and credentials by 2030 will move the state closer to the projected national average, making Kentucky more competitive in an economy where most new jobs require a postsecondary credential.
The Big Goal: 60% with Degrees and Credentials by 2030
Kentucky's strategic agenda for postsecondary and adult education advances the Commonwealth's overall ambitious goal—to raise the percentage of Kentuckians with a high-quality postsecondary degree or certificate to 60 percent by the year 2030. Achieving this goal is critical to accelerate job creation, grow the economy, and expand the state's tax base through the contributions of a more skilled, productive workforce.
Kentucky's current level of educational attainment is 45 percent. In raw numbers, that means about 300,000 additional Kentuckians will have earned a postsecondary credential between 2015 and 2030.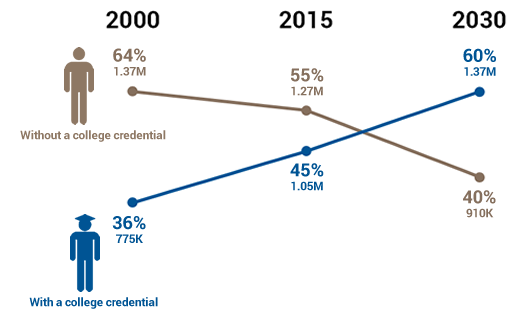 Kentucky's public and independent institutions are currently producing around 60,000 certificates, associate and bachelor's degrees a year. By 2030, our goal is to be producing at least 75,000 a year.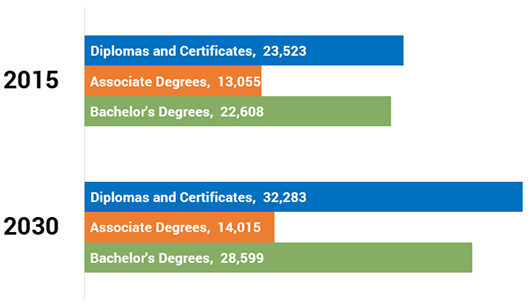 Kentucky's future prosperity depends on more people advancing through our postsecondary education system and graduating in less time. CPE is leading efforts to increase degree production; make instruction more relevant, rigorous and engaging; improve support services for students when and where they need it; close achievement gaps; and ensure academic quality across our campuses.
How We Are Doing
Kentucky is on track to reach our 60x30 educational attainment goal. CPE's latest progress report shows undergraduate degrees and credentials at Kentucky's public and independent colleges and universities totaled 60,723 in 2018, an increase of three percent over the prior year. Combined with graduate degrees, total degree and credential growth climbed four percent overall.
The highest growth came from short-term certificates awarded by the Kentucky Community and Technical College System, increasing five percent to 25,769 awards for the year. Increases in high-demand workforce certificates were reported, with the largest experienced by STEM at 71.1%. Also experiencing significant gains were majors in arts and humanities (55.1%) and social and behavioral sciences and human services (42.8%).
For more about Kentucky's progress on degree and credential production, view the degrees report.
Challenges Ahead
Graduation Rates of Minority and Low-Income Students
While the overall graduate rates for public universities exceed 50 percent, the rates for minority and low-income students are
significantly lower, at 42.7 percent and 41.9 percent, respectively. These students need to succeed to improve Kentucky's economic outlook, as well as address employers' growing needs for a more diverse workforce.
Enrolling More Adults in College
Over the next few years, the number of high school graduates is projected to remain static, but by 2030, a seven percent decrease in high school graduates is expected, which will hurt Kentucky's ability to reach the 60x30 goal. Enrolling and graduating a greater percentage of non-traditional adult students (25 and older) is essential. However, this will be a challenge: the percentage of adult students enrolled has fallen from four percent in fall 2013 to 3 percent in fall 2016.
Why the 2030 Goal Is Important
America's economy is changing. A recent report by the Georgetown University Center on Education and the Economy reveals that nearly all the jobs created in the U.S. since the Great Recession, 11.5 out of 11.6 million have gone to workers with at least some postsecondary education.
Kentucky needs talent to capitalize on these changes. To remain competitive, workers need to be problem solvers, innovators, analysts, communicators and facilitators. They must adapt easily to new technologies and be able to work in teams. They need to be lifelong learners, willing to retrain many times over the course of their careers. They need education beyond high school.
All postsecondary credentials are needed. Kentucky is poised for growth in five sectors: advanced manufacturing; healthcare; business and IT; transportation and logistics; and construction. Certificates help individuals land entry-level jobs. KCTCS works with public universities to create degree pathways that help workers advance in their education and careers over time.
All regions must benefit. Kentucky will succeed only if we achieve greater levels of education for all. Minority, low-income and non-traditional students need resources and strong advising to help them complete college at rates equal to majority students. Rural areas need better access to postsecondary programs to help their economies and communities flourish.
If we succeed, the benefits will transcend our economy. College-educated individuals have higher rates of voting, charitable giving and volunteerism. They are healthier and cost less to insure. They are less likely to be incarcerated, on public assistance or addicted to drugs or alcohol. They read to their children more often and are more involved in their children's schools.
---
Learn more about Kentucky's education goals by viewing Stronger By Degrees, the Council's strategic agenda for postsecondary and adult education.