2020-22 Postsecondary Education Budget Recommendation
The Council's 2020-22 biennial budget request reinforces the need for greater state investment to help fund essential campus expenditures: faculty and staff salaries, fringe benefits, student
financial aid, utilities, building maintenance, libraries, student support services, and
numerous other operating expenses. The two objectives of the request include increased support for performance funding and a capital request for asset preservation.
Overview: Performance Funding
The performance funding model has been a game changer in terms of moving the needle on college completion, particularly for low-income and underrepresented minority populations. The Council's budget request asks for more funding, as well as change in legislation affecting distribution.
Appropriations
The Council's budget request recommends appropriations of $52,492,400 in 2020-21 and $74,989,100 in 2021-22 for performance funding to provide incentives for postsecondary institutions to increase student success and course completion outcomes and accelerate progress toward the state's 60 X 30 attainment goal.
Stop-Loss Continuance
The Council's budget request also recommends that the Governor and General Assembly take action to maintain a stop loss provision in fiscal 2021-22, limiting the reduction in funding to any institution to two percent (2%) of that institution's formula base amount.
Performance Funding Resources
Overview: Asset Preservation
The asset preservation request, with a match from each campus, seeks to address 10% of a projected $7.3 billion in capital investment needs of campus buildings.
Appropriations
Staff recommends an appropriation of $8,239,000 in 2020-21 and $24,717,000, recurring at $32,956,000 in subsequent years, to pay annual debt service on a $400 million bond issue to finance asset preservation and renovation projects at the postsecondary institutions during the upcoming biennium.
Asset Preservation Resources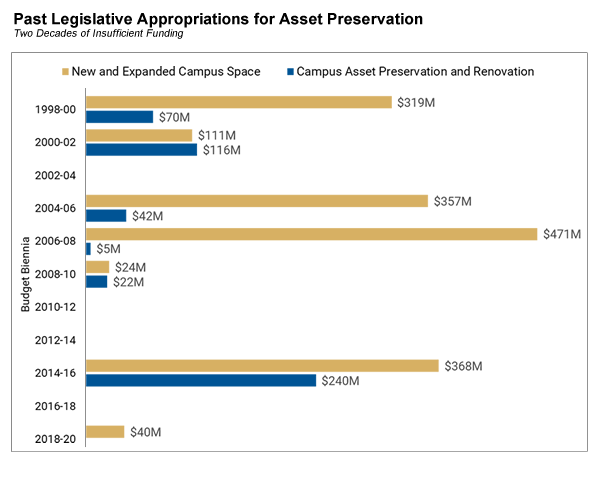 To learn more about CPE's agency budget, visit our Postsecondary Education Funding page.
Why funding Kentucky higher education matters
Between 2000 and 2009, Kentucky led the nation in improvement on key measures of student success. These included being number one in the nation on improvement in increasing the number of adults 25-64 with college degrees, increasing six-year graduation rates at four-year public institutions, and increasing undergraduate credentials awarded relative to the population with no college degree.
Since the Great Recession, the state has implemented funding cuts to net general fund appropriations per FTE of 36%, equating to a $487 million decrease. This decrease is contrary to national trends: Kentucky is one of the few states in the nation to continue disinvestment. This continued decrease of funding has affected campuses in many ways, from eliminating student support services to eliminating programs.
In addition, these cuts have shifted a larger portion of college costs to students and their families. While the Council leads the statewide effort to moderate costs to students and their families, greater state investment in Kentucky higher education is needed to reign in student debt and broaden access to those students who do not even consider college a possibility.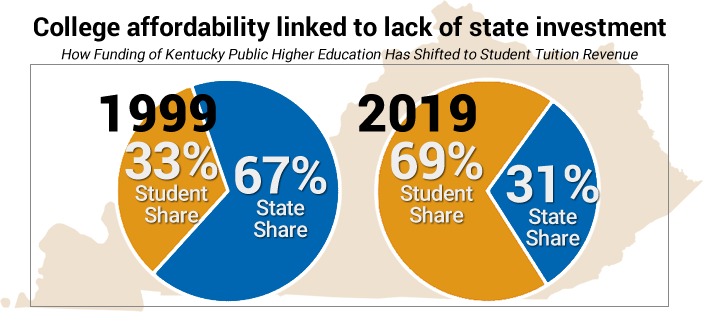 To learn more about the funding and benefits of higher education, view the Council's infographics: