President's Message: College communities rally to support Eastern Kentucky
August 15, 2022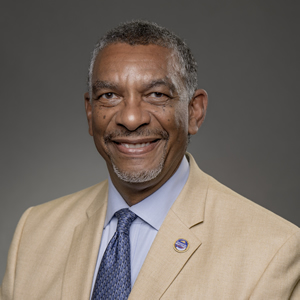 As I share in the excitement of a new school year for colleges and universities across the Commonwealth, my heart is with our friends and colleagues affected by the floods in Eastern Kentucky. As an Eastern Kentuckian myself with family still living there, I'm devastated by the damage this natural disaster has caused.
I'm also reminded of Mr. Rogers' enduring sentiment to "look for the helpers" in times of crisis, and you will always find them there. Our colleges and universities have stepped up in a big way to help their fellow Kentuckians and support students in the flood zones.
They've offered early check-in for students who need a place to stay. They've collected food, water and other necessities. They've made generous donations and coordinated huge fundraisers. Healthcare workers from our universities are on the ground helping with medical needs and mobile clinics are being dispatched. Our medical schools have sent urgently needed supplies like IV fluids and tubing, wheelchairs and CPAP machines. They've coordinated efforts to get veterinarians to help capture lost animals and attend to their medical needs.
I'm also incredibly proud of how our students have volunteered to walk into some terrible conditions to help with clean-up efforts and supply delivery.
I want to say a special thank you to the college and university leaders who have campuses and other facilities in the flood-impacted areas. I am inspired by the way you've looked out for your students and campus communities during this difficult time. My staff and I are here to help support your recovery efforts for as long as it takes.
Best wishes to our students, faculty and staff as they embark on this new school year together. May we continue to hold each other up in good times and hard times.
All my best,

---
Our heart goes out to our sister colleges: Big Sandy, Hazard, and Southeast. They are accepting donations to help those most in need. If you would like to donate, click on the link below. Then, select one of the colleges, and select the flood relief fund. https://t.co/wwOztVuyHR pic.twitter.com/BTOcaJ171p

— BCTC (@bluegrassctc) August 13, 2022
The community donation drive in support of Eastern Kentucky is today! Drop off donations to the #EKU Center for the Arts before 4 p.m. #KentuckyStrong pic.twitter.com/JhpMHJXYAw

— EKU (@eku) August 4, 2022
Dr. Telly Sellars, left, interim president of @BSCTC05, helps Dr. Silas Session, right, director Military Initiatives, with donated items from Morehead State. MSU collected supplies for those affected by flooding in Eastern Kentucky. #KentuckyStrong pic.twitter.com/gN4Hde63WY

— Morehead State (@moreheadstate) August 10, 2022
"@UKExtension is about meeting the needs of your community, and that's what we're working on."

Bringing nearly 200 buckets of supplies to help those affected, one KY county helps another recover following historic flooding >> https://t.co/55RHSdcWdE pic.twitter.com/NViN4gCZPh

— UK College of Agriculture (@UKAgriculture) August 10, 2022
Big thank you to all of #CardNation & some very special friends for making our water drive for Eastern Kentucky a huge success!#GoCards x #TeamKentucky pic.twitter.com/G30lynwR6n

— Louisville Athletics (@GoCards) August 5, 2022