CPE associate vice president named to Leadership Kentucky Class of 2022
June 22, 2022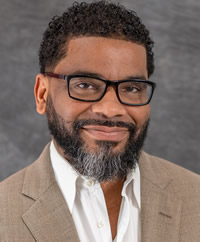 Rick W. Smith Sr., associate vice president of workforce and economic development at the Kentucky Council for Postsecondary Education, is among the 51 members of the Leadership Kentucky Class of 2022.
"I'm honored to be a part of this year's talented and accomplished Leadership Kentucky Class," said Smith. "I look forward to experiencing all this great program offers, understanding the state's social and economic opportunities and challenges, and using that knowledge to guide my work at CPE."
The Leadership Kentucky program consists of seven, three-day sessions. Throughout the sessions, class members will meet with many of Kentucky's current leaders and explore the state's opportunities and resources. The sessions cover topics ranging from business and economic development, arts and tourism, natural resources and the environment, education, health care, diversity and social issues, agriculture and government.
Participants will have the opportunity to form lifelong connections and visit communities. The June through December program will bring the class across the state: Berea in June, Pikeville in July, Bowling Green in August, Louisville in September, Murray/Western Kentucky in October, Lexington/Frankfort in November and Northern Kentucky in December.