GEAR UP Kentucky confronts outbreak with innovation and creative outreach
May 14, 2020
This article is part of the Council's COVID-19 on Campus series.
Austin Tackett and Baylee Henderson breeze through an acoustic version of "The Jitterbug Waltz" before Tackett breaks in with a few encouraging words for the students and parents watching at home.
"Keeping the cup half full instead of half empty is good practice," Tackett reassures his viewers. "Things aren't as bad as they seem."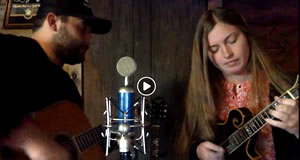 The duo – Tackett on guitar and Henderson mandolin – began serenading students and parents each week on Facebook soon after Fleming County Schools moved to remote learning this spring.
The live performances offer up an hour-long blend of country, bluegrass and jazz interspersed with school announcements and reminders about dropping off instruction packets.
"I feel like it's been pretty successful, and people have found some joy in it," Tackett said. "I'm just glad it's helped."
With hundreds of viewers each week, the show is one of many inventive ways that GEAR UP Kentucky is helping students stay engaged and focused on the future during the COVID-19 pandemic.
GEAR UP works with students and schools in communities with significant numbers of low-income households to support postsecondary preparation and success. And even though COVID-19 forced Kentucky school districts to transition to distance learning in March, the program is still pushing ahead through efforts like virtual advising, social support services, food delivery and outreach by mail.
"It's absolutely vital that we maintain relationships with our students," said Kim Drummond, executive director of GEAR UP Kentucky. "This crisis has only amplified the challenges they face, and we have to be intentional with our resources and especially proactive with our social and emotional support."
Multi-layered approach
Administered by the Kentucky Council on Postsecondary Education, GEAR UP Kentucky is a seven-year, statewide $24.5 million federal grant awarded by the U.S. Department of Education in 2018 to serve at least 10,000 middle and high school students in at least 10 school districts.
GEAR UP Kentucky is serving students in 12 districts: Bath County, Bourbon County, Bracken County, Covington Independent, Fleming County, Frankfort Independent, Marion County, Mason County, Mercer County, Paris Independent, Pendleton County and Robertson County. This is the fourth GEAR UP state grant for Kentucky that has been administered through the Council.
Tackett, a GEAR UP college and career coach who works with seventh graders, is part of the team in Fleming County, where more than 65% of students are considered economically disadvantaged. GEAR UP serves more than 200 seventh graders and 160 high school seniors in that district.
Over the past several weeks, the team has moved quickly to mobilize online – everything from virtual student conferences to engagement on social media or through text message. The team is also helping drop off instruction packets, grade assignments and deliver meals to students in need.
Cindy Jolly, the GEAR UP district program manager in Fleming County, said high school seniors were in the middle of scholarship season when the pandemic struck. But she said conferences on Zoom have helped ensure seniors continue to make progress on financial aid, admissions and campus orientation.
"We are staying busy," Jolly said. "I feel really confident that we are getting the job accomplished; we are just doing it in a different way."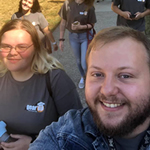 Offering some certainty
The story is similar in Bourbon County, where Chip Plummer, the GEAR UP district program manager, is known to students as "Mr. Chip."
The Bourbon County GEAR UP team has joined with other teams in the region to host a weekly web series with special guests from college campuses. Participants discuss expectations for the fall, move in dates and issues related to financial aid, among other topics.
Plummer, who works with about 200 students, is also holding individualized sessions with seniors through platforms like Zoom and text messaging, and the district has organized senior meetings online with up to 60 students at a time.
The group meetings "give them a way to vent and help keep them in the know about everything going on – giving them certainty in a time when there is a lot of uncertainty," Plummer said.
"It's absolutely vital that we maintain relationships with our students. This crisis has only amplified the challenges they face, and we have to be intentional with our resources and especially proactive with our social and emotional support." - Kim Drummond, executive director of GEARUP Kentucky
Social and economic factors have complicated the transition. For instance, a number of students, particularly in rural areas, lack internet access. But Plummer said text messaging has helped bridge some of the gaps.
"I've had a lot of good engagements that way, and students are being extremely honest about how COVID-19 is impacting them on a personal level as well as their future planning," he said.
Rachel Graves-Dobson, a senior in Bourbon County with a passion for dance and psychology, said her weekly Zoom calls with "Mr. Chip" have helped her formalize plans to attend the University of Kentucky (UK) in the fall.
Graves-Dobson was already focused on college last summer when she assembled a binder of information on scholarships and campuses. But working with GEAR UP has helped fill in the blanks.
"I was panicking on how do I get my housing and how do I get my food plan; how do I get all these different things because I was not ready for this," Graves-Dobson recalls.
Plummer connected her with the admissions team at UK, where she has received a $40,000 scholarship. She also attended a diversity-focused event to meet campus faculty. But Plummer's concern for her wellbeing has meant more than anything, she said.
"He will read over everything," Graves-Dobson said. "He will help us with anything we need, and that's what makes Mr. Chip the best."
Finding the silver lining
Back in Fleming County, the local Chamber of Commerce and the local extension office have helped promote the Facebook show, and Tackett has been encouraging students and parents to consider the silver lining with distance learning.
During a recent performance, he noted that many colleges were moving coursework online before the pandemic hit and said today's remote learning environment provides students some valuable experience ahead of college.
"We just have to follow the rules, follow what our officials say, and do our part and make it out of this thing," he tells his viewers.