Higher education matters to this CPE intern, even amid a pandemic
August 31, 2020
"Your work is going to fill a large part of your life, and the only way to be truly satisfied is to do what you believe is great work. And the only way to do great work is to love what you do. If you haven't found it yet, keep looking. Don't settle. As with all matters of the heart, you'll know when you find it." - Steve Jobs.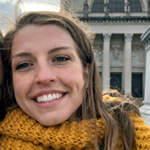 Growing up, I remember the dissatisfaction my parents experienced in careers that met their financial needs, but lacked fulfillment in many other areas. And after watching their struggles for career advancement over the years, I was certain higher education was right for my future.
This semester, I began my junior year at the University of Kentucky as a first-generation student studying integrated strategic communication and Spanish. I'm looking forward to a long career in public relations, working in the non-profit sector and spreading awareness about issues important to our commonwealth.
But for now, attending college as a first-generation student is an important motivator toward my bachelor's degree, and I hope my story will help others see the value of higher education.
Starting college filled me with anxiety and excitement. I often walked around feeling as if the students around me had unlocked a level of intelligence that I somehow had missed out on. I realized I would have to work harder than I had ever worked before to keep up with my classmates.
After completing one semester at UK, I finally understood the value of higher education. I know with total confidence that I have made the correct decision to invest in myself. Graduating from college as a first-generation student is a goal that I am proud and eager to accomplish.
I dedicate myself every day to achieve this goal despite the challenges, all in hopes of pursuing a fulfilling career. Through the pandemic, I stay motivated by reminding myself of these goals on a daily basis.
Not only is college the key to professional and personal opportunity, it also enhances Kentucky's economy and future workforce. I am learning the knowledge and skills for a successful career, while also gaining independence and experience, and learning how to make a difference for our state.
This summer, I had the pleasure of working for the Kentucky Council on Postsecondary Education as a strategic market analyst intern. Accepting a new position during the peak of a global pandemic can be a daunting task; however, serving a government agency that has higher education at its forefront is a priority for me in achieving my future goals. My CPE family provided me with a teleworking position and guided me every step of the way.
I learned many skills as the summer intern – how to measure the effectiveness of content and develop communication benchmarks based on research, culminating with an evaluation of new opportunities for the Council. These are lessons that I will carry with me into my future career in public relations.
Perhaps the most important lesson learned was how to adapt in a professional setting in the midst of crisis and uncertainty. The Council inspires me to continue pursuing higher education with pride.
I want to thank all the staff and members of CPE for providing me with the opportunity and welcoming me with open arms and wise guidance. I am also forever grateful for the opportunities and skills that pursuing higher education has given me.
As always #KyHigherEdMatters.
---
Mallory Quisenberry is a junior at the University of Kentucky, where she is pursuing a bachelor's degree in integrated strategic communications with a minor in Spanish. She worked as an intern at the Council on Postsecondary Education this past summer and serves on CPE's Student Advisory Group.