Kentucky campuses plan for hundreds of students to continue living in residence halls despite outbreak
April 01, 2020
This article is part of the Council's COVID-19 on Campus series.
While thousands moved out of student housing last month in response to COVID-19, Kentucky colleges and universities still expect hundreds of students to remain on campus this semester – due mostly to financial challenges or bans on international travel.
Institutions have moved quickly in recent weeks to establish outreach and support services as campuses transition toward online courses and remote learning. That includes loaning out computers, providing Wi-Fi hotspots, and offering advisors, counselors and telehealth services via the internet.
However, some students have simply been unable to travel home or find housing, institutions say, and many were working through an exemptions process last week.
"Campuses are not closed," said Dr. Aaron Thompson, president of the Kentucky Council on Postsecondary Education. "Every campus will still have some students and employees on site and the academic mission will continue. In the meantime, we must make sure campus interventions are as diverse as the students and their needs, especially when it comes to housing."
The University of Kentucky (UK), for example, expects to have more than 400 students remain – close to 6 percent of the 6,900 living on campus before COVID-19.
UK is transitioning those students to three residence halls with one student per suite. Common areas will stay closed, and visitation is off limits – all to maintain social distancing.
UK's Gatton Student Center will provide regular to-go meals from the dining hall, and campus leaders are considering ways to use the facility as a "one-stop-shop" for other services, such as financial aid or counseling.
UK spokesman Jay Blanton said the university is working with students on a case-by-case basis, balancing federal and state health guidelines with individual needs.
"When we talk about the health, safety and well-being of all of our students, that's going to take a lot of different forms," Blanton said. "For the vast majority of our students, it's returning home. For some students that have to stay here, it's how do we provide support and create a healthy environment."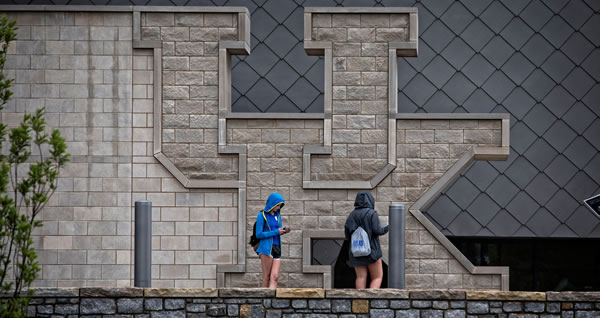 Likewise, Northern Kentucky University (NKU) projects that close to 150 students will continue to live on campus – down from about 1,500 – under a similar setup that provides health and counseling services, meals to go and social distancing.
The goal is to provide housing while also offering a system that protects student health, said NKU spokesman Roy Gifford. "We are keeping all that in mind to keep those folks safe," he said.
While the numbers are smaller on many other campuses, administrators say coordinating resources is still critical.
Kentucky State University (KSU) is expecting only about nine students to continue living there – down from 113 who remained after an extended spring break. About 800 students reside on campus in normal times.
KSU spokeswoman Clara Stamps said campus leaders reduced the number of students who need housing by working with the university foundation and using alumni donations to assist with residential and travel expenses.
Students who stayed will remain spread out in a single residence hall to comply with social distancing, and KSU is providing a schedule to pick up food from the cafeteria or leave campus for other needs.
"We've done all we can to accommodate them, whether they are living on campus or off campus because they are our top priority," Stamps said.
Like KSU, both UK and NKU have looked to donations to assist students during the transition, whether they live on or off campus.
As of Thursday, UK's Basic Needs and Persistence Fund had raised more than $52,000 from 213 donors since it was promoted as part of the COVID-19 response. Blanton said the donations can assist students who have recently lost jobs, need assistance with technology or face other financial hardships.
NKU also launched an emergency fund, which by Friday afternoon, had raised over $41,000 to help students with educational and personal needs.
"Campuses have been extremely proactive with efforts to blunt the impact of the outbreak for all of their students and have done a yeoman's job protecting international students and those with financial hardships," Thompson said. "I want to commend their flexibility and compassion toward all."