Kentucky GEAR UP director named to national advisory commission
July 05, 2022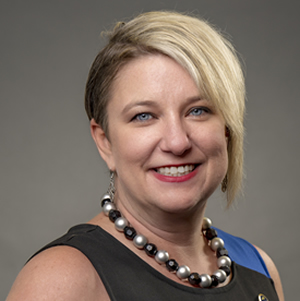 The Kentucky Council on Postsecondary Education announced today that GEAR UP Kentucky Executive Director Kim Welch is set to join the National Council for Community and Education Partnerships (NCCEP) GEAR UP Advisory Commission for a three-year term beginning July 17.
"Helping every Kentucky student have the opportunity to further their education is our mission at GEAR UP Kentucky, and I'm honored to be a part of NCCEP's Advisory Commission and expand our commonwealth's impact on this important work," said Welch.
GEAR UP, or Gaining Early Awareness and Readiness for Undergraduate Programs, is a highly competitive, federally-funded grant program that helps empower local K-12 schools, higher education institutions, state agencies and community organizations to increase the college and career readiness of low-income students nationwide. GEAR UP serves over 572,000 students enrolled in over 3,474 secondary schools across 43 states. To be eligible for GEAR UP, a minimum of 50% of a school's student body must be enrolled in the federal free and reduced-price lunch program.
NCCEP, an association of expert practitioners and thought leaders expanding educational opportunities in thousands of schools nationwide, works with the U.S. Department of Education to provide professional development for the GEAR UP program. The advisory commission plays a critical role for NCCEP as their primary sounding board on government relations, programming and strategic initiatives.
"We rely on the advisory commission to help guide NCCEP and serve as important ambassadors in ensuring that the views of our community and members are ever-present in our planning work," said NCCEP President Alex Chough. "I believe Kim is a perfect candidate for this work, and I'm excited about the insight and experience she will bring to the commission."
In October 2018, the Kentucky Council on Postsecondary Education was awarded a seven-year, $24.5 million grant by the U.S. Department of Education. GEAR UP Kentucky currently serves more than 6,000 students each year in 12 school districts and 9 partner postsecondary institutions. This is the fourth GEAR UP state grant that has been administered through CPE. Welch has worked at GEAR UP Kentucky for 10 years and took on the role of executive director in 2019. For more information about the GEAR UP Kentucky program, visit gearupky.org.