New CPE progress report shows 2020-21 college graduation rates up amid drop in enrollment
August 18, 2022

Kentucky is making long-range gains in closing equity gaps
College graduation rates are on the rise in Kentucky despite a drop in undergraduate enrollment, according to the 2022 Progress Report from the Kentucky Council on Postsecondary Education. The report details public higher education performance for the 2020-21 school year.
The report showed graduation rates continued their upward climb, increasing 1.8 percentage points at public universities and 4.1 points at the Kentucky Community and Technical College System. Graduation rates among underrepresented minority students at public universities outperformed the overall rate, rising 4.3 percentage points.
Graduation rates reflect the percentage of first-time, full-time students entering in the fall semester who graduate with an associate degree or credential within three years of entry or a bachelor's degree within six years of entry.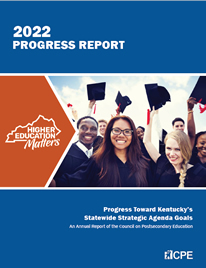 "This report provides a snapshot of progress on our college and universities' performance targets toward the state goal for 60% of working-age Kentuckians to have a postsecondary credential by the year 2030," said CPE President Aaron Thompson. "Increasing the education and skill levels of our workforce is a prerequisite to overcoming systemic poverty, low rates of workforce participation and persistent inequities along racial, ethnic and gender lines."
Gains for underrepresented minority students continued to outpace overall progress, a trend that is narrowing performance disparities between majority and minoritized populations.
Since 2015-16:
Enrollment of URM students increased by 14.1%, while overall enrollment decreased by 6.9%.
Total degrees and credentials awarded to URM students were up 41.3%, compared to a 17.8% increase overall.
The 6-year graduation rate for URM students was up 9.5 percentage points, compared to a 7.6 percentage-point increase overall.
In other improvements, graduate degrees awarded increased 7.1%, and state higher education funding per full-time student increased 10.6% over last year, the largest single year increase in several decades.
Public campuses faced several declines as they dealt with financial, demographic and public health challenges brought on by COVID-19, economic instability and a declining young adult population.
Nationally, total postsecondary enrollment (undergraduate and graduate) decreased about 3% from 2020 to 2021; Kentucky fared better with a 2% decline.
Undergraduate enrollment was down 5.8% at public universities and 10.5% at KCTCS from the previous year, while enrollment of URM students at public universities increased slightly.
The percentage of Kentucky high school graduates enrolling directly in college fell from 58.1% to 53.8%. The total percentage of high school graduates enrolling in college in state is 47.9%.
First-year to second-year retention rates fell 3.8 percentage points at public universities and 1.6 points at KCTCS.
After several consecutive years of increases, undergraduate credentials awarded in 2020-21 were down 3.9% at public universities, while KCTCS increased the number of credentials awarded by 0.4%.
Despite the challenges, Thompson said the report shows that the higher education system is well positioned to reverse declines and build on growth made in key areas.
"I'm proud of the progress we've made in closing equity gaps, and I am confident Kentucky higher education has the right framework in place to drive unprecedented improvements in student success, educational equity and workforce productivity," he said. "The resilience and ingenuity demonstrated by our campuses during the COVID pandemic, as well as historic state budget increases for higher education, have strengthened our capacity to meet the existing and emerging challenges over the next decade."
This year's progress report establishes baseline data for new key indicators of performance included in the statewide strategic agenda for higher education, "Higher Education Matters," which extends from 2022 to 2030.
Like the strategic agenda, the progress report is organized around six strategic priorities: college affordability; transitions to postsecondary education; student success; talent development; increasing higher education's value proposition; and diversity, equity and inclusion, a cross-cutting priority. For each priority, key performance indicators are identified and tracked at the state-level, campus-level or both.