Q&A with Destiny O'Rourke
June 30, 2022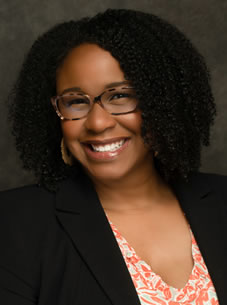 Destiny O'Rourke is the director of CPE's Kentucky Advising Academy, a new initiative aimed at providing professional development and networking opportunities for school counselors and all P-12 educators in postsecondary education advising roles. O'Rourke, a former college and career coach, previously worked at the Kentucky Higher Education Assistance Authority and spent five years at Western Kentucky University as an admissions counselor and assistant director of alumni relations and annual giving.
If you were to sum up the top issues students voice to counselors regarding college preparation, what would they be?
One of the top issues that students voice to counselors is not having enough postsecondary access information early enough to make knowledgeable decisions with it. Planning, selecting and executing a postsecondary plan can be a daunting process and has a profound impact on the trajectory of one's life. Students can be nervous about making the right decision. Affordability is another top issue that students voice. The FAFSA and scholarship processes can be confusing and sometimes require documentation that can be challenging to acquire. Some of our most vulnerable students often get frustrated and don't make it through the entire process.
So, tell us a little about the Kentucky Advising Academy –  What challenges are counselors having with providing college preparation services that necessitated an initiative like this?
The Kentucky Advising Academy supports postsecondary advising efforts by providing professional learning to school counselors and educators in advising roles. One of the main challenges that school counselors are having with providing college preparation services is the large number of students for whom they are responsible. Some counselors serve more than 300 students. Another challenge is that school counselors have many critical responsibilities in addition to college access. Sometimes, there simply isn't enough time to manage it all. The Kentucky Advising Academy aims to help school counselors build knowledge, capacity, and community by sharing resources, encouraging a systems approach and providing space for school counselors and other professional educators to share best practices in postsecondary advising.
How do you think this initiative will help?
At the Kentucky Advising Academy, we are fortunate that postsecondary advising is what we get to do 100% of our days. Because of that, we are able to spend time researching current postsecondary advising information and distilling it into relevant and manageable professional learning that school counselors can engage with flexibly according to their busy schedules. We have monthly, quarterly and bi-annual virtual and face-to-face professional learning and community building opportunities, and our approach is collaborative in nature. We partner with postsecondary access organizations from all across Kentucky to ensure our offerings are in alignment with the robust existing resources in our state.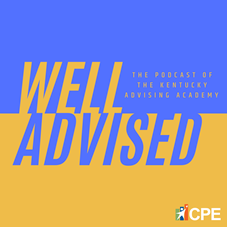 Part of the Academy is the launch of a new podcast, Well Advised. What made you choose this format and how will it benefit participants?
Podcasts provide an opportunity for busy practitioners to engage without a significant disruption to their full plate of professional responsibilities. Our podcast is intentionally kept short—about 10-15 minutes—and it covers an advising topic that will be more deeply covered in our webinar format during the same month. This gives our practitioners an opportunity to get a short burst of advising information and decide if they want to participate in the longer webinar, which will also include time for community-building and be eligible for EILA credit.
How can people participate in this initiative?
People can participate by engaging with our monthly podcasts and webinars. They can also plan to participate in our bi-annual regionally-based professional learning opportunities. We will be creating a quarterly newsletter meant to provide a review of and companion resources from the podcast and webinar topics covered as well as amplify partner voices and spotlight positive advising practices from across Kentucky. Soon, we will launch an online toolkit as well. Our website provides an opportunity for people sign up for email communication about all of those forthcoming opportunities. Our website is http://cpe.ky.gov/ourwork/kyadvising.html and we are on Twitter, Facebook and Instagram @advisingky. We can also be found on YouTube at https://www.youtube.com/channel/UC-N8lcSPkFPDYVR-lJUuF9w.