Q&A with Dr. Bob Staat, chair of the Committee on Equal Opportunities and faculty representative to CPE
August 01, 2019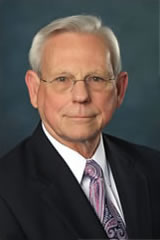 How did you get involved with the Council on Postsecondary Education?
I was part of the University of Louisville's Faculty Senate for many years, serving on both the Provost's Program Review Committee as well as the Senate's Academic Programs Committee. In the course of this work, I often heard about CPE's guidelines and regulations. After my term serving as faculty senate chair, the faculty representative appointment to the CPE came open. I put my name forward since I thought I had experiences that would benefit the work of CPE. Following my appointment to CPE, I quickly learned that CPE's responsibilities were far more than just academic programs.
How does being a faculty member, with the "boots on the ground" perspective, help some of your decision-making when it comes to Council business? Can you provide an example?

It definitely helps me see both sides of an issue so I can better weigh the options. Being a faculty member allows me to weigh in on Council discussions about the faculty and staff perspectives.
In terms of an example, CPE is tasked with setting tuition for the campuses; however, we get pushback even with the lower ceilings we've been setting. As a faculty member, I look at the fact that the state budget has not been kind to higher education and that many schools have not been able to give faculty and staff salary increases to keep up with inflation. Thus, tuition increases are the only way of maintaining critical personnel to support students. I need to add that the schools have essentially maintained the same cost per student for the last 10 years; the raising of tuition only partially offsets the reduced state funding. Our higher education institutions are struggling to meet their budgets just as many students are.
As the newly appointed chair of the Committee on Equal Opportunities (CEO), what are some of your priorities?

My role on the CEO has recently changed as CPE Chair Sherrill Zimmerman asked me to chair the CEO, and I accepted. This committee has had a very large workload because of the new diversity guidelines and the campus plans and assessment. I will be working with Dr. Dawn Offutt and Travis Powell on the following priorities to:
Realign committee membership to members who have time to commit to our meetings;
Work with the institutions to understand and streamline their diversity plans;
Emphasize that assessment of their responses on the subjective portion of the report needs to have data to support their comments; and
Keep the institutions on track to continue closing the underrepresented minority (URM) and low-income student achievement gap.
Can you tell us some of the great things your campus, the University of Louisville, is doing to build a more diverse and inclusive campus culture?

UofL has made significant progress in "closing the gap" of URM students graduating at the same rate as the general population. Much of the credit goes to the efforts of Vice Provost for Diversity Dr. Mordean Taylor-Archer, who has been a tremendous advocate for all students of color. I use the term "has been" because Mordean retired from her position on July 1. She will be missed as she promoted a climate that supports and values the unique contribution that each individual makes to UofL. The other notable activity at UofL is the medical school's recognition of the LGBTQ community. The school has incorporated the LGBTQ issues into its curriculum and is considered near the top nationally regarding its focus on addressing LGBTQ health issues.
How do you think Dr. Thompson's insight as CPE's first black president will help Kentucky close achievement gaps?

President Thompson and I have a very good working relationship, and I see his primary objective as raising the educational attainment of every Kentucky student. His emphasis on closing the achievement gap for URM and low-income students becomes particularly evident when he addresses the CEO. He often points to opportunities available to students and uses himself as an example because he came from very humble beginnings in Clay County. What makes Aaron so effective is that he leads by example and encourages all students to pursue some form of higher education.
The Council's education attainment goal looks toward the year 2030 when 60 percent of Kentuckians have a high-quality college credential or degree. What changes would you like to see to help reach that goal?

First, the public perception of the value of higher education has to change to one that recognizes the return on investment to our graduates, the workforce and economy. The Council has a new report coming out later this year that will make the case for the return on investment of higher education in Kentucky.
Another change I would like to see is to have trade unions integrate their apprenticeship programs more closely with local colleges, perhaps offering basic math and English courses.
In terms of the secondary public schools, I would like to see more of a career focus. I know Commissioner Lewis is working on this, but the school counselors are very busy with many other duties.
Finally, the "15 to Finish" concept has to be front and center with college advisors, if for no other reason than the financial aspect. Why spend an extra year or two of tuition when you could be earning a salary?
Anything else you would like to say?
There is no greater return on investment than a higher education certificate or degree.