President's Message: Recognizing inequities is an important first step
February 03, 2021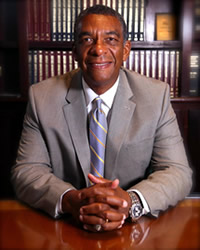 On Jan. 20, Kamala Harris, our first female, Black and Asian vice president, took the oath of office. As she laid her hand on the bible of Thurgood Marshall, she was surely thinking about this mentor and civil rights pioneer, who as a young lawyer successfully argued the case of Brown vs. Board of Education, which desegregated our nation's schools.
Of this moment, Harris has said she was thinking in particular of her late mother, Shyamala Gopalan Harris, and her favorite piece of wisdom: "You may be the first to do many things, but make sure you are not the last."
Regardless of political party, the ceremony was a potent reminder of the power of the American dream. I watched this inauguration with pride, but not with any sense of contentment. I thought of my parents, who voted for the first time in 1968, after 30 years of marriage. However much progress we've made, we are just one generation removed from de jure segregation. The image of the Confederate battle flag brandished by Capitol insurrectionists reminds us how much racial reckoning remains to be done.
Just ahead of Black History Month, the Kentucky Chamber released a report from its Task Force on Racial Inequality, of which I'm a member. Called "Achieving Equity to Build a Stronger Kentucky," it shines a light on enduring inequities in our schools, prisons and workplaces. The statistics it cites should be deeply troubling to every Kentuckian:
Before starting school, Black children in Kentucky scored 8 percentage points lower than white children on academic readiness assessments. By third grade, 31% of Black children scored proficient in reading, compared to 59% of white students. In just four short years, an 8-point difference grew to a 28-point difference.
Black students comprise 10% of all public school children in Kentucky but account for over a third of all disciplinary actions.
While 8.5% of Kentucky's population is Black, the percentage of Black inmates in Kentucky is just under 25%—more than two and a half times the makeup of the population at large.
The poverty rate among Black Kentuckians is 24%, compared to 15% among white Kentuckians.
The fact that Kentucky's premier business advocate is focusing on racial justice is a testament to the opportunities of this current moment. A summer of Black Lives Matter protests in Louisville has elevated the issue of systemic racism, so much so that the Kentucky General Assembly introduced several bills related to criminal justice reform and the impact of proposed legislation on communities of color.
Let's take advantage of this moment of racial reckoning. The first step to solving this problem is acknowledging that there is one. Read the report. Share it with others. Let's continue the important work of redressing inequities that persist to this day.