President's Message: Restoring faith in the value of higher education
March 04, 2022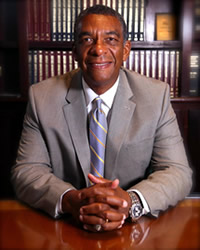 I was honored to unveil our new strategic agenda for higher education last month. Higher Education Matters: A Statewide Strategic Agenda for Kentucky Postsecondary Education outlines the priorities and objectives that will guide our work over the next eight years. It is our roadmap toward meeting Kentucky's educational attainment goal—to raise the percentage of Kentuckians with a postsecondary degree or certificate to 60% by the year 2030.
One of the priorities in the agenda is restoring the public's faith in the value of higher education. We know that college has a positive return on investment in measurable ways. Graduates earn higher salaries, are less likely to be unemployed, are healthier and are more active citizens. States with high levels of education attainment receive more tax revenue to fund programs that improve the quality of life for everyone and spend fewer resources on public assistance, disease and incarceration. But it also has intangible benefits—the chance to develop your unique talents, pursue your purpose and create the career path that is right for you.
But don't just take my word for it. As part of our new Higher Education Matters campaign to raise the public's understanding of the value of higher education and encourage college-going, alumni of colleges and universities are sharing their own personal stories of how higher education has changed their lives for the better.
Higher education matters to single parents
Dr. Lakeshia Yarbrough had a lifelong passion for helping people and a desire to give back to her community, so she wanted to pursue her college degree to reach her highest potential. She had previously dropped out of college and had a son to care for, but she knew there were resources out there to help her achieve her goals. Lakeshia reached out for help at Murray State University, where she received support in the form of scholarships, financial aid, counseling and even a single parent support group. Lakeshia earned her bachelor's degree and then went on to earn a doctor of nursing practice degree. She's now a family nurse practitioner working to keep her community healthy.
Higher education matters to those struggling financially
Jamie Lindsey began working at Delta Faucet as an operator when she was 19 years old, and college was not part of her plans. Then she discovered the SKY FAME program at Southcentral Community and Technical College. The program partners with employers, so students like Jamie go to school two days a week and work three days a week getting hands-on experience. She earned her two-year degree and returned to the workforce full time with more skills, experience and financial security. Jamie says her only regret is not doing it sooner.
Higher education matters to those wanting a brighter future
Arturo Flores found his calling in college after dropping out of school in 8th grade and struggling with addiction, which eventually led to time in prison. After an arrest, Arturo was placed in Owensboro Regional Recovery. In what would be a fateful move, the judge placed a court order requiring Arturo to complete his GED. That first step led Arturo to earning his associate degree at Owensboro Community and Technical College before going on to Western Kentucky University to get his bachelor's in social work and then pursuing his master's degree. He became a case manager at the same recovery center he was placed in, helping those struggling with the same things he did.
Higher education matters to me
I've heard enough stories like these across the commonwealth to understand the power of higher education to change the trajectory of a life—and I've experienced it firsthand. Higher education is one of the strongest and most reliable tools we have to find our passion and purpose, achieve financial stability and build a fulfilling professional life. That's why I'm so excited to implement this new strategic agenda. I know that Higher Education Matters, and I'm passionate about spreading that message to those who need to hear it most.