Statement from CPE President Aaron Thompson
January 13, 2022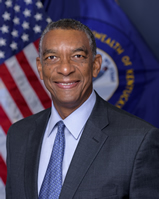 We are grateful to both Gov. Beshear and the House for confirming that now, more than ever, higher education matters. Their support is crucial to maintaining affordability for students and their families, boosting student success and workforce outcomes, lifting disenfranchised citizens out of poverty and accelerating progress toward the state's goal of having 60% of working-age Kentuckians with a college-level certificate or degree by 2030.
The proposed game-changing investments will better the lives of Kentuckians and the future of our state by ensuring an accessible, affordable and responsive higher education system for students, whether they want to pursue high-demand trades, short-term workforce credentials, two- and four-year degrees, or higher levels of education.
We simply can't have a thriving workforce and economy without a strong higher education system. Our higher education community has the knowledge, expertise and workforce partnerships to adapt and respond to a rapidly changing economy and world.
We look forward to working with our governor and legislature as they finalize a new biennial budget, and we stand ready to lead our state in providing life-changing opportunities for all of our citizens.