Student TikTok video wins "Champion" banner for promoting FAFSA
June 02, 2021
Kyrin and Jaydan Norris, two sisters from Garrard County, Kentucky, had an important question for their fans on TikTok. "What happens to a student who works hard and fills out their FAFSA?"
They never expected such a huge reaction.
Last month, the pair won recognition from the Kentucky Council on Postsecondary Education along with a host of education leaders from around the state. It was all part of a ceremony to wrap up the FAF$A for the Future TikTok Challenge, a public awareness campaign that CPE launched in March with one of its units, GEARUP Kentucky.
FAFSA stands for Free Application for Federal Student Aid. It allows students to access need-based aid and other forms of financial assistance that help pay for college or vocational training. Completing the form is a crucial step in the college enrollment process.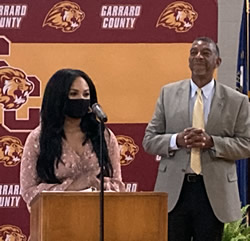 "We have to meet our students where they are," said CPE President Aaron Thompson. "FAFSA offers millions in free aid every year. But too many students are unaware of this opportunity, or they are too intimidated by the paperwork. If we want to reach our education goals in Kentucky, we have to find novel ways to overcome these challenges, and our TikTok competition will serve as a great example moving forward."
Dozens of students, educators and state officials gathered in the Garrard County High School gymnasium to learn about the benefits of FAFSA and present Kyrin and Jaydan with a banner for their work.
Kyrin attends the school, while Jaydan just graduated from Eastern Kentucky University. The sisters worked with Sydney Arnold, assistant principal at Garrard High, who came up with the idea for the video and enlisted their help.
"It was great to see what FAFSA and the financial aid opportunities have done for me, and I want to encourage other people to jump on the opportunity and begin a future for themselves," Jaydan said.
CPE and GEARUP Kentucky developed the TikTok challenge to spread the word about the importance of FAFSA completion and counter a recent decline in applications. Thompson kicked off the competition with his own video more than two months ago. In the clip, he offers information about the application process while showing off some dance moves.
Kentucky students received more than $372 million in federal Pell grants last year, according to the Kentucky Higher Education Assistance Authority (KHEAA). KHEAA distributed more than $272 million in grants and scholarships, and most of the funds were allocated based on FAFSA data.
In addition to the Pell grant, the FAFSA form is required for three of Kentucky's popular need-based aid programs – the College Access Program (CAP) Grant, the Kentucky Tuition Grant (KTG) and the Work Ready Kentucky Scholarship.
However, the Form Your Future website, which tracks submissions across the country, reported in May that applications among Kentucky high school seniors were down about 13% compared to same time last year. Only about half of graduating seniors had submitted the form. That has raised concern that students could miss out on critical aid for the fall 2021 semester.
For their part, Kyrin and Jaydan's video offers a simple answer to their question. A student who fills out the FAFSA "receives thousands of dollars in free money and thrives in college," their clip says.
Kyrin said the pair just wanted to help students find resources for college. "Everyone doesn't have the same background or the financial aid that others have," she said.
More information is available at https://studentaid.gov/h/apply-for-aid/fafsa, which offers instructions for submitting a form electronically or by mail along with other details about the process.
Applicants can also receive help from a KHEAA outreach counselor by visiting KHEAA's website: https://www.kheaa.com/website/kheaa/counselors?main=6. Counselors are available in every region of the state.
View the featured video:
@sydneyarnold36Garrard County High School Official Submission. Help us win! #KYFAFSA #tiktokteacher #teachersoftiktok #fyp #virtual♬ this is what it look like - lucas