What does Kentucky's vaccine push mean for college campuses?
February 03, 2021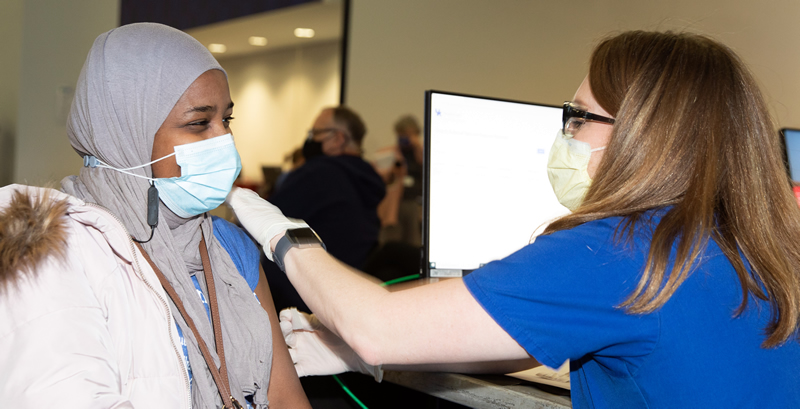 As Kentucky moves forward on a massive effort to vaccinate against COVID-19, college faculty and staff rank relatively high in the distribution plan, and public universities are supporting the rollout with space and medical volunteers to help administer the shots.
All personnel in higher education are classified as phase 1c along with other frontline essential workers as defined by the Centers for Disease Control and Prevention.
According to the state Cabinet for Health and Family Services, Kentuckians within phase 1c were eligible to register at regional vaccination sites, starting on Jan 28. The sites opened this week.
President Aaron Thompson, head of the Kentucky Council on Postsecondary Education, said that in conversations with campus presidents and state Health Commissioner Steven Stack, it's clear that health and safety on campuses is high priority for the state.
"Kentucky's plan recognizes that college employees are essential to our communities, and I appreciate the leadership of Dr. Stack and the Beshear administration on that front," Thompson said.
"Based on the compassion and adaptability we've already seen on campuses throughout the pandemic, I have no doubt that we are poised for a steady recovery in higher education," he added. "But I want to caution everyone that it will take time and patience, and we may face some unexpected challenges along the way."
Emerging protocols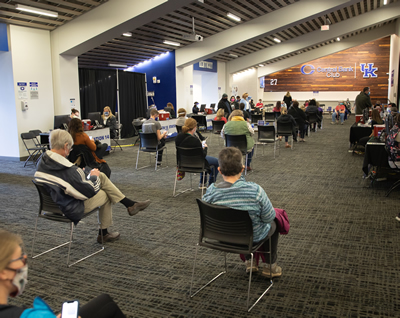 So far, Kentucky has administered more than 430,000 doses across the state, and campuses are ramping up efforts to make sure faculty and staff have the resources and information to receive a vaccination when available.
For instance, Morehead State University is working with local health care providers to offer vaccinations to university health care employees, university police, trainers and nurses.
It also hosted a virtual educational session on the vaccine for all employees and remains in weekly contact with providers to stay updated on distribution protocols. The campus even offered an incentive – a paid day off – for employees who take a COVID-19 test.
President Ashish Vaidya at Northern Kentucky University has announced that NKU will offer the vaccine on campus for faculty, staff and students at no charge. The university began with health care faculty and staff who might be mobilized in the pandemic and students who will have clinicals in health care settings.
NKU officials expect that all employees, along with students who have underlying health conditions, will have access to vaccines by mid-March.
A massive partnership
In the meantime, universities are joining the effort to speed up distribution.
The University of Kentucky and UK HealthCare have launched an extensive vaccination center inside Kroger Field – the campus football stadium – where hundreds of medical volunteers are doling out around 250 doses each hour to high priority patients like first responders, K-12 school personnel and those over 70.
Officials there say the goal is to provide an efficient, streamlined operation that inoculates between 1,800 and 2,000 people a day. The university is also sharing information with state leaders so the process can be replicated at different sites across the commonwealth.
"This is completely a team effort involving people from health care, from athletics, from our main campus, and more importantly, from the state, which is supplying us with these doses to give out to our community," said UK Police Chief Joe Monroe, who is heading up logistics in the effort.
At the University of Louisville, UofL Health is partnering with the Metro Louisville Department of Health and Wellness to also provide vaccinations to the community. UofL Health is distributing the shots at four sites: Jewish Hospital, UofL Hospital, Mary and Elizabeth Hospital and Frazier Rehabilitation Institute.
In addition, faculty and students from UofL Health Sciences are volunteering to help the local health department in its distribution efforts.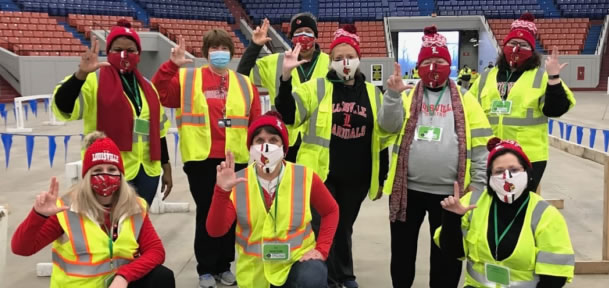 Dr. Phillip Bressoud, executive director of Campus Health Services, said it's all part of the vital role that Kentucky's public universities are playing in the rollout.
"Through deployment of medical personnel and the thousands of volunteer hours provided by faculty, staff and students, the University of Louisville is helping … vaccinate as many citizens as possible as quickly as possible," he said. "This is especially important for our most vulnerable populations."
Thompson noted that campuses, especially those affiliated with medical centers, have offered invaluable support to local communities since the beginning of the pandemic. Those efforts span from medical support and academic research to providing personal protective equipment to local health care providers.
"Higher education has remained instrumental at every step," he said. "But we still have lots of work ahead."
---
For more information about Kentucky's vaccination plan, visit https://govstatus.egov.com/ky-covid-vaccine.