Work group kicks off review of performance funding model
August 04, 2020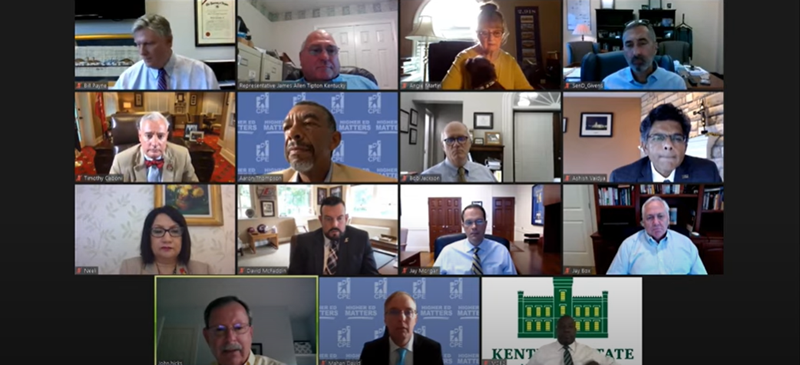 A group of leaders from higher education and state government has launched the first major review of Kentucky's performance funding model for public colleges and universities.
State law requires the Postsecondary Performance Funding Work Group to meet every three years – starting this summer – to determine if the state's funding model for higher education is working as expected. The group held its first meeting on Thursday.
The goal of the four-month review is to identify any unintended consequences and recommend possible adjustments to the governor and state legislature before the end of the year.
"We expect to have a very comprehensive review," said Aaron Thompson, president of the Kentucky Council on Postsecondary Education. "This is an important opportunity to make sure incentives are effective and that funding aligns with our goals, especially in areas that promote attainment, equity and quality of life."
Kentucky's performance funding model resulted from a state law passed in 2016 that sought to raise attainment levels and develop a more educated workforce.
The measure directed CPE to convene a working group of campus presidents and elected leaders, who then developed a funding approach that binds a portion of new state dollars to campus performance.
Specifically, the effort aimed to increase student retention and degrees; grow the number of degrees and credentials in high-wage, high-demand fields; and close achievement gaps by increasing the number of degrees and credentials earned by low-income, minority and underprepared students.
CPE estimates show that Kentucky has made progress on several of those fronts in recent years. For instance, the number of bachelor's degrees awarded to underrepresented minority students jumped more than 33% from 2014 to 2019 while bachelor's degrees in STEM+H fields rose 31% over the same period.
Institutions have also responded to the incentives by better aligning campus goals with state objectives, adopting internal budget practices that reward performance, and expanding need-based aid and completion grants.
However, the model has faced some challenges due to a dearth in new funding, which resulted in budget reductions for some campuses. Members of the group have indicated they plan to review that issue in-depth.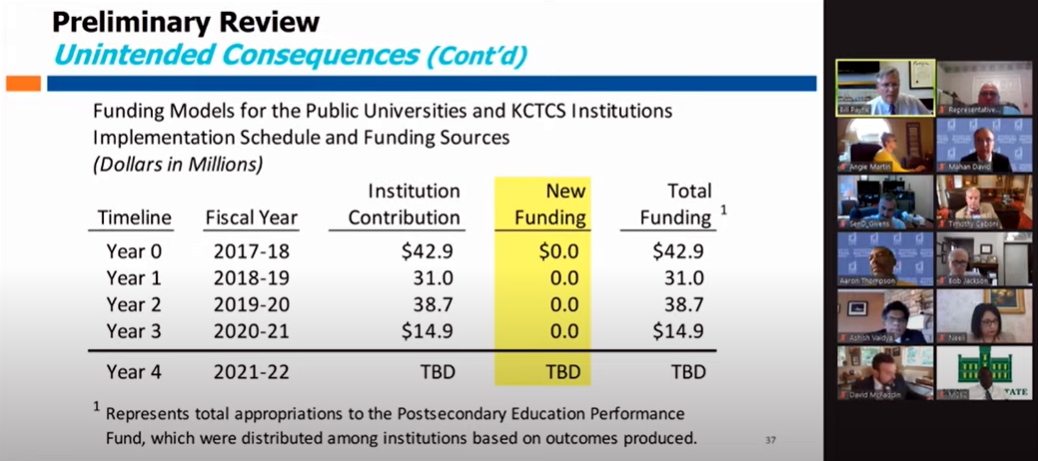 Senate President Pro Tempore David Givens, R-Greensburg, serves on the work group and was instrumental in passing the performance model in 2016. Givens said that, according to CPE estimates, the model is generally working as designed except for the lack of new funds.
"The model was built and envisioned from the start for an initial $20 million of new money to flow through during that first year of implementation," he said. "That would have negated a lot of the redistribution that is inherent in a model like this."
The work group will hold a second meeting in September and plans to wrap up by December. Overall, the examination will include an outcomes and funding status report, financial impact analyses and individual institution reviews.
Thompson said campus presidents have remained transparent in their assessment of the model so far.
"We have a fairly broad consensus that most of the metrics are working," he said. "But we will continue to have discussions about any challenges, and we are eager to hear more insights from our campus leaders."
Members of the Postsecondary Performance Funding Work Group include:
President Aaron Thompson, Kentucky Council on Postsecondary Education
State Rep. James Allen Tipton, R-Taylorsville
Senate President Pro Tempore David Givens, R-Greensburg
State Budget Director John Hicks
Interim President David McFaddin, Eastern Kentucky University
President M. Christopher Brown II, Kentucky State University
President Jay Box, Kentucky Community and Technical College System
President Jay Morgan, Morehead State University
President Robert Jackson, Murray State University
President Ashish Vaidya, Northern Kentucky University
President Eli Capilouto, University of Kentucky
President Neeli Bendapudi, University of Louisville
President Tim Caboni, Western Kentucky University