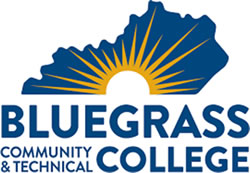 Bluegrass Community & Technical College supports all service members, veterans, military spouses and dependents by providing them an affordable and convenient quality postsecondary education.
We accept all GI Bills, GoArmyEd, Kentucky National Guard Tuition Assistance, MYCAA and the Kentucky Tuition Waiver. BCTC is approved by the Kentucky Approving Agency for Veterans Education for the use of VA Education Benefits for eligible individuals under title 38 U.S.C.
BCTC has seven campuses within a 30-minute drive of 95% of Central Kentuckians with flexible class schedules and online course options. Our Military and Veteran Student Services Center offers on-campus support and provides referrals to tutoring, counseling, disability and career services.
A free online application is available for all students.
Join our military-friendly community!
We welcome military service members, veterans and their families. Here's how to apply to BCTC and start building a better future.
Earn a degree, diploma or certificate on campus or online, or prepare for a job in one of our Go to Work programs. We offer flexibility and support services to help you reach your goals while serving your country or after you've retired from active duty.
Concurrent Admission
If you're planning to enlist in the Army, you may be eligible for the Concurrent Admissions Program (ConAP), a program designed to help you apply to college and access your benefits. Be sure to select KCTCS as your home college when you enlist.
Questions? Contact us. We're here for you, every step of the way.
Contact Information
Desiree Marshall
BCTC VA Coordinator/School Certifying Official
Leestown Campus
164 Opportunity Way, C-118
Lexington, KY 40511
Phone (859) 246-6820
Fax (859) 246-6889
desiree.marshall@kctcs.edu